Website Legal Concerns for Your Internet Business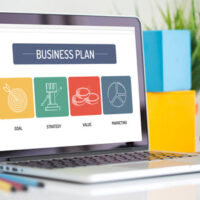 When it comes to new business ventures, many entrepreneurs are taking the online route. After all, an online business opens the door to millions more potential customers rather than a local brick and mortar store. However, creating a legal website involves much more than choosing a template from GoDaddy, Wix or some other website builder. There are numerous legal and ethical concerns that you will face along the way, from use of images to appropriate linking to creating original text.
Copyright Concerns
When it comes to the use of images and text, copyright issues are a major concern. It is not legal to use an image from someone else's website—or anywhere on the internet, for that matter. Any unauthorized use of an image is called copyright infringement.Copyright infringement encompasses many elements and can be quite complicated.
So how do you get images for your website? The best course of action is to create your own, either through the use of photography or a program such as Photoshop that allows you to create your own graphic. If you're not the creative type, there are other options. If your software comes with clip art, you can use it. However, you may not be able to alter it.
Another option is to use free images from the Internet. You can use these as long as you follow the terms put in place by the creator of the image. For example, you may have to add an image credit.
Trademark Concerns
A trademark refers to a slogan, image or words used by a company to identify it. For example, Nike's trademark is the swoosh logo. If your company used a similar logo that was altered but still could cause confusion between the two companies, then you could be accused of trademark infringement.
When creating a name for your product, make it a strong trademark. Try to avoid real words and instead make one up (like Xerox or Kodak). You can always do a search to make sure your idea isn't already taken.
Defamation
Defamation is also something to consider, especially if you are very opinionated and tend to discuss other people in a blog or other text on your website. While we do have First Amendment rights here in the United States, the internet is rife with opportunities for people to speak their minds too freely. Making false statements about someone and damaging their reputation is considered slander. Therefore, be careful about commenting on people or attributing them to something they never said. Otherwise, you could be sued for defamation.

Learn More About Website Legal Issues

This is just a sampling of some of the legal issues you may face as you create your own business on the internet. There are many more things to consider, and if you choose to ignore them, you run the risk of being sued.
If you're interested in purchasing a website for your new business, make sure you do it right.  Orlando domain name & website transaction lawyer B.F. Godfrey from Godfrey Legal can help you with privacy issues, copyright concerns, defamation and linking issues. He will help you address these legal challenges so you can focus on running your business. Contact Godfrey Legal at (407) 890-0023 today for a consultation.
Resource:
copyright.gov/title17/92chap5.html