Hairstylist in Violation of Non-Compete Agreement, According to Beauty Spa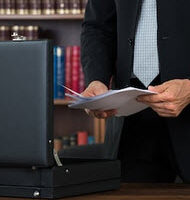 In the past, non-compete agreements were exclusively used in the technology industry as well as for high-paying executive positions. Nowadays, they are used in nearly all industries, even low-paying ones. Hairstylists are even subject to them, and it's causing a multitude of problems.
A health and beauty spa is taking their case to court, claiming that a hairstylist is working for a competitor and stealing their customers. The spa is asking the judge to order the woman to stop working at her current job.
The suit was filed by Cascade Spa in New Hampshire. The defendant worked there from 2007 until July 2018. At that time, she left Cascade Spa to work for Refuge for Healthy Hair.
Cascade Spa then sued the female employee, claiming that she violated her non-compete agreement. There is a clause that states that the woman cannot work within 25 miles of Cascade Spa for a period of one year after leaving. The two salons are just one mile away from each other.
The employee is contesting the lawsuit. She claims that the clause is too broad, making it impossible for her to make a living in the beauty industry. Her lawyer claims that the agreement should be narrowed down more, as it is currently unreasonable. Cascade Spa has also shown bad faith in dealing with the woman and should have their rights forfeited.
In addition, the woman is a single mother of two children. They all live with her parents. They share expenses and one vehicle, which means she is responsible for picking up her father from work a well as her children from school and daycare. She would be unable to work if she had to find employment outside of the 25-mile zone.
Another thing to consider is that the woman was not asked to sign a non-compete agreement when she was first hired in 2007. However, between 2012 and 2013, she took a leave of absence for four months. When she returned, she was forced to sign it in order to work.
Cascade Spa is known for paying lower commission than other local salons. By enforcing the non-compete agreement, it allows them to keep wages low and keep employees from seeking higher wages elsewhere.
Cascade Spa is asking the court to terminate the hairstylist's current position or order that she no longer provides service for past or present clients of Cascade Spa. One of the items of contention is that when the hairstylist left Cascade Spa to work for Refuge for Healthy Hair, she took multiple clients with her. This has allegedly caused Cascade Spa to lose revenue.
Learn More About Non-Compete Agreements
In today's economy, competition is fierce. Companies want to hire only the best people, and when they find someone they like, they use non-compete agreements to keep them at the company—sometimes against their will.
Non-compete agreements are overused in all types of industries. If you were forced to sign one and are now considering other employment opportunities, you need to understand your rights. Orlando non-compete agreement lawyer B.F. Godfrey from Godfrey Legal can assess your agreement and advise you on how to proceed. Schedule a consultation by calling (407) 890-0023 or filling out the online form.
Resource:
laconiadailysun.com/news/courts_cops/beauty-spa-wants-court-to-order-former-stylist-to-stop/article_93ab82f0-f284-11e8-94e6-3379ad5f84a9.html
https://www.godfreylegal.com/what-to-know-about-non-compete-and-anti-poaching-agreements/