Buying a Domain Name? Follow These Tips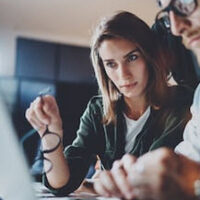 Advertising is the heart of every business, and the best way to advertise nowadays is to have a solid online presence. This involves an attractive website, but the first step is procuring a domain name.
You've probably had trouble with a company's website at some point or another. Is it .com or .net? Does the name have "3" or "three" in it? Is it "two," "too" or "to"? Is the name often confused with another website?
Naming your website may sound like fun, and while you may enjoy the opportunity to get your creative juices flowing, you need to avoid these common issues that could reduce the traffic you get to your website, thus reducing your revenue.
Do Some Research
Don't buy a domain name without doing some research first. Look at similar sites and check out your competition. If the domain was in use in the past, you can see how much it sold for.
Make the Name Easy to Remember
You may think you're being cute by spelling "cat" with a "k" or using "dogz" instead of "dogs," but it's not so cute when customers can't find you. Likewise, keep the name short and sweet. Your  customers will be more likely to remember www.candycorner.com than www.chocolate-candies-sweets4u.com.
At the same time, avoid slang terms and numbers. Slang is not widely used and understood, which can limit your customer base, particularly from other countries. It can be confusing to have numbers in a website because customers may be confused as to whether or not your domain name is www.23sports.com or www.twenty-threesports.com.
Most domain names end with .com, so it makes sense to choose one with this extension, although there are others to choose. Other extensions include net, org and .info, but will your customers remember?
Make Your Domain Name a Little Different
Don't just add a plural to an existing site or add a small word before or after to make it different. You probably won't be able to do so for a huge site anyway, as it will just redirect to the correct site. For example, you can still access Facebook by going to www.facebooks.com. Googles.com, however, goes to an entirely different site.
Avoid Trademarked Terms
Avoid using products and other trademarked terms in your domain name. This means avoiding using words such as Pepsi, Coke, Disney, Google, Facebook and Amazon in your website name. Be original. You don't want to end up with a copyright infringement case on your hands. 
Learn More About Domain Names
If you're starting your own business, you'll want a website to match, even if you don't sell products online. Having web presence is so important nowadays. Make sure you your concerns and any legal issues are addressed.
Get effective legal representation from Orlando domain name and website transaction lawyer B.F. Godfrey from Godfrey Legal. He can help you with agreements, contracts and other forms of protection so you can run your business effectively. Get started by calling (407) 890-0023 or filling out the online form.
Resource:
mediatemple.net/resources/web-hosting-101/10-tips-before-you-buy-a-domain-name/
https://www.godfreylegal.com/women-owned-sole-proprietorships-on-the-rise-in-florida/