Copyright Infringement Case Involving Duct-Taped Banana Dismissed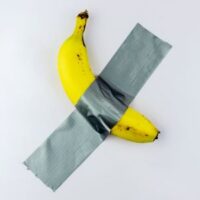 Who knew that a single piece of fruit would cause so much drama between two artists? A banana taped to a wall led to a copyright infringement lawsuit filed by artist Joe Morford. However, the lawsuit was dismissed in Florida court, stating that there are too many differences between the two pieces of art. Plus, Cattelan provided sufficient evidence that he created his work independently.
Maurizio Cattelan, an Italian artist, created the viral sensation Comedian, which features a banana duct taped to a wall. It debuted at Art Basel in Miami Beach in 2019 and quickly became popular.
In 2001, though, Morford had created his own work, Banana and Orange, which features plastic replicas of banana and orange duct taped to two green panels. While the two works may look similar, the judge said there may have been some influence in Cattelan's work, but not enough to classify it as copyright infringement.
According to the judge, Comedian is different from Banana and Orange in various ways. Some differences include the banana used, the angle at which the banana is placed, the method by which it is taped to the background, and the background itself. Regarding the placement of the tape, the judge bluntly stated that it is the obvious choice. Placing the tape parallel with the banana would cover it. Placing more than one piece of tape over the banana would obscure it. An artist seeking to tape a banana to a wall has only a few ways of visually presenting the idea. This means placing a piece of tape across the banana at some non-parallel angle. While there are some similarities between the two pieces, they are not protected by copyright law.
Also, while Morford claims Banana and Orange could be easily found online on Facebook or YouTube, Cattelan claimed that he had never heard of Morford. In fact, Cattelan had developed an early version of the work in 2018 as a cover commission for New York Magazine. One of Cattelan's employees confirmed this.
These declarations by Cattelan and his employee compelled the judge to rule in his favor. On June 9, the U.S. district judge for the Southern District of Florida granted Cattelan's motion for summary judgment, which closed the case. Cattelan and his lawyer were happy with the outcome.
Comedian was an instant sensation. Ultimately, all three editions of the work sold. They were priced at $120,000 each.
Learn More About Copyright Infringement
If you have creative works such as paintings, songs, articles, and trade secrets, then you want to do your part to protect them. However, when a lawsuit is involved, the law can be complicated and judges may make unfair rulings in court.
Get the protection you need from Orlando trademark & copyright lawyer B.F. Godfrey from Godfrey Legal. We will secure your valuable ideas. To schedule a consultation, call (407) 890-0023 or fill out the online form.
Source:
theartnewspaper.com/2023/06/13/maurizio-cattelan-banana-lawsuit-copyright-infringement-joe-morford