COVID-19 Turning Small Businesses Into Startups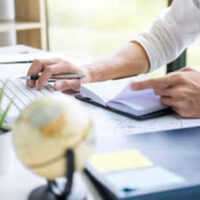 Do you remember the days when your small business was just starting out? You likely spent a lot of time and money getting things set up so you could begin operations and earn revenue. You probably don't wish to go through that stage again.
However, even if you started your business a few years ago or even a decade ago, you may want to revisit this business strategy. Many entrepreneurs are finding that the coronavirus pandemic is putting a wrench in their business operations, forcing them to think outside the box for ways to earn money. It's time to start fresh.
That's right — you may want to think back to days to when your business idea was just a business startup. Buying habits have changed tremendously in the past few months. Many people are quarantining at home, only venturing out to take care of essentials, such as doctor appointments, banking and grocery shopping.
Coming up with a new business strategy can be scary. You've tried something that's worked for many years and now you have to start all over. If you're a true business startup that just started operations this year, you may have to totally rethink your business model. Can you still sell the same products? If so, how will you sell them? This will likely require some changes.
Things can be more complicated for existing businesses. They may have expenses such as employee wages, a lease, inventory and other bills. However, they also have a lot of good things going for them, such as experienced employees, good vendor relationships, established customers and knowledge of the industry.
By changing things a little, you can find more opportunities for revenue streams. Many restaurant and food services are struggling right now. Some are focusing on takeout orders. Others are offering online cooking classes or selling meal kits. Some are working together with other small businesses in the community. For example, some wineries and breweries are selling food from local businesses.
Be creative. Think of things that tie into your industry. Get feedback from your customers. What do they want or need right now? Don't be afraid of putting in the extra work. Yes, it can be scary, but almost all entrepreneurs are having to make changes right now.
In any case, it's time to be flexible. You cannot remain stagnant and hope your business will survive. It won't work. This type of attitude is forcing scores of businesses to shut down for good. Don't become a statistic. Become a survivor.
Learn More About Business Startups
Businesses need to learn to pivot and be flexible during these ever-changing times. Businesses have yo-yoed back and forth between opening and closing for most of the year and they need to know how to keep their business up and running.
Orlando business startup lawyer B.F. Godfrey from Godfrey Legal can help you make the appropriate changes to keep your business successful during these stressful times. Schedule a consultation by calling (407) 890-0023 or filling out the online form.
Resource:
usatoday.com/story/money/columnist/2020/12/02/small-businesses-think-startup/6473156002/