Franchises applaud Labor's rollback of 'joint employer' guidance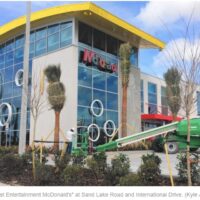 Paul Brinkmann, Contact Reporter
Orlando Sentinel
Franchise companies, including many restaurants in the Orlando area, are applauding a move by the Trump Administration's Department of Labor on Wednesday that could reduce lawsuits against franchisors.
It could also mean less money for employees or customers who sue franchise businesses.
Franchise companies, such as McDonald's Corp., faced more pressure regarding problems including workplace discrimination or injury in recent years. Under the Obama Administration, the labor department issued guidance that viewed such companies as "joint employers" with their franchise locations.
Wednesday's labor announcement was terse, just three sentences. It reverses attempts by the department under the Obama Administration to attach greater liability to franchisors or contractors, referred to as joint employers.
The department announced "the withdrawal of the U.S. Department of Labor's 2015 and 2016 informal guidance on joint employment and independent contractors."
"It is a favorable thing that the franchise industry would be happy to hear," said Biff Godfrey, an Orlando attorney who previously served as general counsel for TGI Fridays restaurant chain.
Franchises like TGI Fridays are typically owned and operated by small, local businesses. There can be some exceptions to that situation, including if a franchisee owns dozens of locations. But suing a large corporation like McDonald's is a much more wealthy target.
"It's an attempt to reach into the deep pocket of the franchisor, rather than the company you actually work for," Godfrey said. "That concept could potentially end the whole franchise business model."
He said franchise companies offer basic advice to franchisees about the need to have policies addressing discrimination, harassment and other problems. But the big corporations generally don't get involved in telling the smaller operators what they should do about such issues.
The news release from the Labor Department said it would continue enforcing the law, though: "Removal of the administrator interpretations does not change the legal responsibilities of employers under the Fair Labor Standards Act and the Migrant and Seasonal Agricultural Worker Protection Act, as reflected in the department's long-standing regulations and case law. The department will continue to fully and fairly enforce all laws within its jurisdiction …"