Protect Yourself With a Construction Contract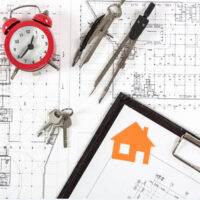 Are you looking for a contractor to remodel your home or even build you a new one from scratch? If so, don't do anything without agreeing to a contract. A contract shows you exactly how much the project will cost and what it will entail.
Construction projects are complicated by nature. Without a contract in place, your contractor can take his time with the project, use materials without your approval and charge you for unexpected expenses. This can lead to delays and a project that cost you twice as much as expected.
Don't let this happen to you. Find out more about how to protect yourself with a contract for your next construction project.

Important Elements Every Construction Contract Should Have
A good construction contract should include the following:
Scope of work. The scope of work covers everything that the owner and contractor expect will occur during the course of work. The scope of work is highly extensive in nature and includes many elements, including deliverables, work activities, pricing, timelines, quality, objectives and any government terms and conditions.
Procedures for handling change orders. When the project begins, there will be a set of plans in place. However, sometimes owners change their minds. They may decide, during the course of the construction, that they want to add a bedroom or use a different type of flooring. These are called change orders, and they happen in virtually every construction project. Therefore, the contract should have provisions for these changes and outline the process for making changes once construction has begun.
Payment schedules. Very rarely is a contractor paid in a lump sum upfront. The owner typically gives a down payment and then makes payments at various phases of the construction process. Since many owners pay for the project using loans, the owner and contractor often come up with a draw schedule that allows for payments at certain milestones, such as when foundation is poured, the walls are framed or when the house passes its final inspection.
Using Contracts to Address Risk
The ideal contract addresses various risks that can occur during the construction process and who is responsible for them. For example, there could be time delays due to materials needing to be backordered or the contractor needing to deal with an unexpected medical issue. Extreme weather conditions such as rain and snow can also delay a project.
A huge issue occurs if the owner refuses to pay the contractor on time. A lack of money can keep a project from moving forward.
There could also be hidden defects, such as bad soil that makes it difficult to build upon. Damage and injuries to third parties is something else that should be addressed in the contract. If the owner or a guest is injured on the property, who is responsible?

Learn More About Construction Contracts

A new home is a significant project, so make sure you protect yourself financially. Without an appropriate contract in place, you could be on the hook for expenses you never considered or your project could be delayed for many weeks or even months.
If you're considering getting involved in a construction project, present your contract to the Orlando construction lawyers at Godfrey Legal. With more than three decades of experience, we can answer your questions and ensure your construction contract contains all the necessary elements. Contact us at (407) 890-0023 today for a consultation.