Women-Owned Small Businesses Not Supported By Federal Government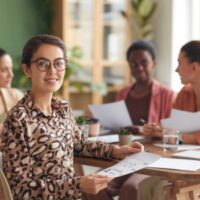 Owning a business is not for the faint of heart. Making money is not an easy task. There are many government programs that try to help. There are contracts and funding available but the truth is that women are often shut out of these opportunities. They are overwhelmingly overlooked in favor of men.
In fact, a whopping 99% of women entrepreneurs say that the federal government has let them down. These women-owned small businesses are not a priority, as entrepreneurs are not getting the support they need. This is the result of a survey of 900 women small-business owners across 47 states and Puerto Rico by Goldman Sachs.
According to the survey, 89% of women small-business owners feel as though they are not on a level playing field with male business owners. If they had to grade the federal government on its programs, services and resources for women business owners, 72% would give it a "C" or below.
While there are lucrative government contracts available, getting awarded one is next to impossible unless you are certified as  a women-owned small business through the Small Business Administration (SBA). However, the process to get certified is time-consuming and cumbersome. Business owners just don't have time to deal with the rigmarole involved and don't feel it's worth the struggle. Only 36% of the businesses surveyed were certified. Of those, nearly 60% claimed that the process was difficult. More than 40% felt it wasn't worth the benefits. These statistics show that the SBA has faced challenges in reaching the goals of its own program.
The SBA has a goal of granting 5% of federal contracts to certified women-owned small businesses. However, in three decades, this has only happened twice — in 2015 and 2019. In 2021, just 4.63% of contract dollars went to women-owned small businesses.
The SBA has always been plagued with challenges, particularly in terms of how women-owned small businesses have been treated. Federal contracting has been rife with issues, particularly in terms of fraud. In fact, between April 2011 and June 2018, 3.5% of contracts were awarded to ineligible businesses.
Beyond that, women business owners report that the process simply does not work for them. Getting certified is a laborious process on its own. Gathering all the necessary paperwork to even apply could take days. This takes a lot of time away from running the businesses. Making the process of getting certified even more frustrating is that small businesses have to recertify every three years if they want to get awarded a federal contract.
Learn More About Business Contracts
Government agencies often award contracts to small businesses, but they can be hard to come by.
Orlando business contracts lawyer B.F. Godfrey from Godfrey Legal can help you create a sound legal contract. We'll make sure your best interests are kept in mind. Fill out the online form or call (407) 890-0023 to schedule a consultation.
Source:
govexec.com/management/2023/03/99-women-owned-businesses-say-federal-government-hasnt-done-enough-support-them-survey-finds/383584/