Actor Donald Glover Sued By Florida Rapper For Copyright Infringement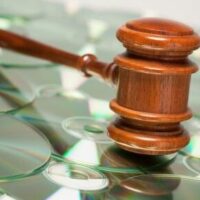 It's true that a lot of music sounds alike. It's not uncommon for modern songs to have elements of previous ones. However, if you copy specific elements without permission from the original creator, then you can be sued for copyright infringement.
A rapper from Florida is claiming that a song from Childish Gambino, the alter ego of actor Donald Glover, sounds very similar to his song. In fact, the songs even have similar titles. Childish Gambino's song is called "This is America," while the rapper, Kidd Wes (real name: Emelike Wesley Nwosuocha), has a song called "Made in America."
"This is America" was released in 2018. It won Song and Record of the Year at the Grammy Award the following year.
On May 6, Kidd Wes filed a lawsuit in a New York court. Named in the lawsuit are multiple defendants, including Donald Glover, co-writer Young Thug, producer Lüdwig Goransson, Atlantic Records, RCA Records, Sony Music Entertainment, Warner Music Group, Kobalt Music, Young Stoner Life Publishing LLC, 300 Entertainment, Roc Nation, Warner Chappell Music, and Universal Music Publishing Group.
On September 11, 2016, Kidd Wes uploaded "Made in America" to SoundCloud. On May 24, 2017, he was granted a copyright for the album Eleven: The Junior Senior Year. "Made in America" was released later that year.
Kidd Wes is alleging that there are substantial similarities between both songs. There is rhythmic and lyrical content found in the choruses of both songs. He also claims that "the distinctive flow" in "This is America" is practically identical to the distinctive flow in his song "Made in America." Kidd Wes' lawyers claim these similarities are not just coincidental and constitute copyright infringement.
To prove this case, Kidd Wes even asked Musicologist Dr. Brent Swanson to analyze the two songs. Both songs explore the themes of gun violence and the political establishment. Also, while the lines 'This is America' and 'Made in America' have different tempos, they still line up perfectly in time.
Kidd Wes has filed a lawsuit to obtain compensation and credit for the unauthorized use of his music. He is seeking damages from 43 categories, including record sales; music publisher and record incomes; ringtones; endorsements; and increased goodwill. He claims that Glover and the other defendants made hundreds of millions of dollars in profit from plagiarizing "Made in America."
This was not the first time that Donald Glover has been accused of copyright infringement for "This Is America." In 2018, rapper Jase Harley claimed that his March 2016 song "American Pharaoh" was stolen from Glover and parts of it were used in "This Is America." However, one of Glover's collaborators denied the plagiarism claims.
Learn More About Copyright Infringement
It's possible to accidentally infringe on someone else's work, which is why songwriters need to be careful when creating new music.
If someone has been copying your music or other works, get protection from Orlando trademark & copyright lawyer B.F. Godfrey from Godfrey Legal. He can represent you and help you understand your legal rights. Schedule a consultation by calling (407) 890-0023 or filling out the online form.
Resource:
pitchfork.com/news/childish-gambino-sued-by-rapper-who-alleges-this-is-america-copyright-infringement/