What To Discuss With A Lawyer Before Starting A Business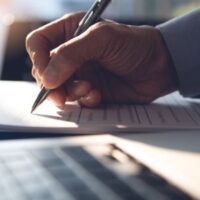 Are you ready to quit the 9-5 and start your own business? Most likely, no. A business startup is more than just quitting your job and selling a product you created. There is a lot more involved. You need to know about liability, business structure, employee rights, copyright law, contracts, and much more.
It's important to understand all that is involved in running a business so you don't get involved in costly legal issues. Therefore, having a meeting with a business lawyer is a good idea. Here are some topics to discuss.
Choosing a Name
This may not seem like the hardest thing to do, but there are legal issues involved if you make the wrong choice. You could open yourself up to copyright issues, so if you have a name in mind, discuss it with your lawyer so you fill out the right paperwork and go through the correct procedures.
Business Structure
There are several ways to structure your business. There are sole proprietorships, partnerships, corporations, and LLCs. A sole proprietorship is the easiest to form, but your personal and business assets and liabilities are not kept separate, so there's a lot at risk. A partnership is good if there are two or more people involved, as it protects against debt. A limited liability company (LLC) protects your personal assets from liability in the event of a bankruptcy. Corporations offer the strongest protection but are very costly. Ask your lawyer which structure is right for your business.
Contracts
Do not ever rely on an oral promise. It's always good to have a written contract in place when dealing with customers, vendors, and even employees. A contract helps all the parties involved know what to expect so there is no miscommunication. A contract should include legal verbiage, so make sure you use the right document. There are many templates online you can use. You can also have your lawyer draft a contract for your business.
Compliance
Each company must abide by state and federal laws when it comes to elements such as recordkeeping, taxes, safety, and more. Make sure you know what is required of your business so you avoid legal liability.
Insurance Coverage
It's important to have some form of insurance. Insurance can protect your business from issues such as data breaches, workplace injuries, breach of contract, and other legal claims brought against you from employees, customers, and vendors. Your lawyer can help you choose the right coverages for your business.
Learn More About Business Startups
Starting a business may seem like a dream for many people, but having your own company isn't easy. There is a lot involved and if you don't follow the laws, you could end up in serious legal trouble.
Orlando business contract lawyer B.F. Godfrey from Godfrey Legal can help you understand all the ins and outs of owning your own business. He can assist you with the legal and contractual side of things. Fill out the online form or call (407) 890-0023 to schedule a consultation.
Resource:
smallbiztrends.com/2018/06/questions-to-ask-an-attorney-before-starting-a-business.html