Avoid Unlicensed Contractors By Having A Contract In Place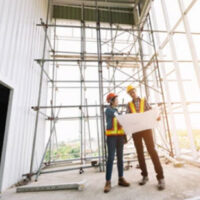 After a disaster like a hurricane, storm, or fire, a person's most prized possession — their home — may be damaged. Once they receive compensation from their insurance, they may want to rebuild. And because many people are living in temporary housing during this time, they often want to rebuild as quickly as possible.
If you're in this situation, you definitely don't want to rush through it. You may want to hurry up and find a contractor to start the rebuilding process. However, many unlicensed contractors tend to come out of the woodwork after a disaster has ravaged a community. While an unlicensed contractor may seem cheaper, they can cause a lot of headaches in the long run.
Unlicensed contracting is actually illegal in Florida — in fact, it's a third-degree felony, with fines of up to $10,000. This state law applies to all types of construction — not just repairs or rebuilding after a hurricane or other disaster. All licensed contractors working in a specific county must register with the county prior to starting a project.
The Risks of Hiring an Unlicensed Contractor
It's important that Florida residents are aware of what to look for, especially after the amount of damage Hurricane Ian has caused in the state so far. When it comes time to hire a contractor, make sure to do your due diligence.
A reputable contractor will have a valid license, as well as a bond, liability insurance, and worker's compensation insurance (if they have employees). These all help you, the customer, and make sure you are not on the hook for any issue, such as injuries and property damage while the contractor is completing work on your property.
In addition, a reputable contractor will have you sign a written contract. Never agree to an oral contract, no matter how well you know the contractor. Having a contract in place gives you legal protections in the event that the project does not get completed on schedule.
When you hire a contractor without a valid license or insurance, you risk the following:
Fire and electric shock hazards
Damages and injuries caused by collapses
Mold and mildew issues from leaks
Employee injuries
Safety issues
Damage to your property caused by accidents or reckless behavior while on the job
Also, by hiring an unlicensed contractor, you risk the possibility that your home may not meet building code standards. If you ever sell your home and code violations are discovered, you would be on the hook for paying for repairs. This can be a costly issue.
Learn More About Construction Contracts
Don't be coerced into paying for a construction project without having a contract in place. A contract offers legal protections.
Get help from Orlando construction & development contract lawyer B.F. Godfrey from Godfrey Legal. We'll address your concerns and help you avoid common mistakes. Fill out the online form or call (407) 890-0023 to schedule a consultation with our office.
Source:
charlottecountyfl.gov/news/unlicensed-contracting-is-a-felony.stml