Business Startups Flourishing Post-Pandemic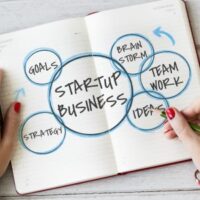 It seems as though everybody wants to start their own business and work for themselves, but studies show that this mindset has become even more common nowadays. Since 2020, there has been a surge in Americans starting businesses, ranging from restaurants to dry cleaners to tech start-ups. Could it be because of the COVID-19 pandemic?
The pandemic hurt the economy in the United States in a number of ways, but could it be turning things around now, breaking America out of a decades-long entrepreneurial slump? It's possible. There's no doubt that COVID changed the way we live and work. The federal government gave out trillions of dollars in pandemic assistance. Could this have been the boost that Americans needed to start a company and hire workers?
In the past few years, many great things have happened to jobs and the economy in general. They include the following:
Surge in startups. While the pandemic hurt the economy in a lot of ways, it might have also broken the United States out of a decades-long entrepreneurial slump.
Minimum wage. The labor market has rendered the federal minimum wage of $7.25 meaningless, with many jobs paying double that rate or more.
Seasonal hiring. Many retailers are reporting modest goals for temporary employment this year.
Startup activity and employment had fallen since the 1980s, with a handful of large firms increasingly dominating industries. But there have been hints of business revival in the past few years, suggesting that the pandemic has broken these trends. There has also been evidence of a sustained increase in new-business activity as well as job creation.
The landscape of the new economy shows more Americans working from home. There are fewer startups in downtown areas but more of them in suburban areas. Relatively young companies are accounting for a larger share of employment in the economy.
Businesses have spent the past several years complaining of a labor shortage in the United States, even though workers have been returning to the labor force quickly. This makes sense now, since there is more competition. Existing companies are finding themselves competing for workers, as there are many more startups than there used to be. A record 10.5 million new business applications were filed in Joe Biden's first two years as president. This is the largest number ever in a two-year period.
Still, not everyone is optimistic. Some economists say the surge in businesses is just a trend. It is a fluke that is not likely to last.
Learn More About Business Startups
The corporate world has been demanding in the past year. Many companies are requiring employees to return to work and work long hours without overtime pay. This has led many people to start their own businesses.
Orlando business startup lawyer B.F. Godfrey from Godfrey Legal can help ensure your ducks are in a row. Mistakes are common, but we'll help you avoid them. To schedule a consultation, call (407) 890-0023 or fill out the online form.
Source:
nytimes.com/2023/09/29/us/politics/pandemic-economy-surge-start-ups.html