Commercial Real Estate Industry Dealing With Recession, Remote Work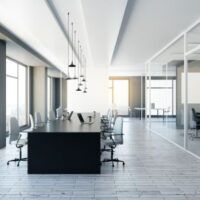 The housing industry has gone out of control in the past few years, with homes selling for way above asking price in some areas. The commercial real estate market, however, hasn't been doing as well. Commercial property sales have dropped 16% since last year as companies are wondering what to expect in the workforce in the near future. Is buying office space a good idea with the threat of COVID disappearing?
Most likely, no, as there are two main factors at play. One is the recession. Costs and interest rates are going up, causing investors to stay away from making real estate purchases. Another factor is the state of remote work. While many companies want employees to come back into the office, the truth is that employees don't feel the same way. They don't want to commute. They want to continue to work from home in the long term—even permanently.
Tech companies, insurance companies, and financial companies are finding it hard to get employees to come back to the office. When companies mandate it, employees simply quit, leaving companies without adequate staffing. It's a tough situation all around.
So what companies can use commercial space? It's predicted that most of the growth in this area will come from health care, biotech, and agricultural tech. This is mainly because of the laboratory work involved in these fields. It's almost impossible for employees to do lab work from home, so commercial buildings are going to be in demand in these fields.
There's a lot of money going into the healthcare and medical fields. Certain medical conditions such as metabolic diseases, cancers, and neurosciences are being addressed, so laboratories will stay in great favor for a while.
Still, companies and investors need to deal with the realities of the market. There is still a lot of commercial space that is not being used. A lot of properties have been on the market for a long time. In terms of getting employees back into the office, it won't be easy. Companies will have to understand that the days of having employees in the office from 9-5, five days a week are long gone. Given that there is still a need for in-person training and teamwork, many companies are going to have to adapt to a hybrid or fully remote environment. COVID has spoiled workers and the office will never be the same again.
Learn More About Commercial Real Estate Transactions 
The commercial real estate industry has seen its ups and downs since the coronavirus pandemic ravaged the nation. With many employees not willing to return to work, coupled with economic issues, companies are hesitating to invest in office space.
If you do decide to purchase a commercial property, Orlando commercial real estate transaction lawyer B.F. Godfrey from Godfrey Legal can assist you in the process. We can provide you with expert advice. Fill out the online form or call (407) 890-0023 to schedule a consultation.
Source:
foxbusiness.com/real-estate/commercial-real-estate-tale-two-worlds-joel-marcus