Job Search With A Non-Compete In Place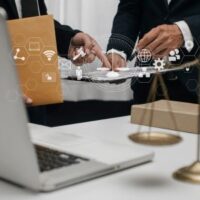 You may think you got the perfect job, until you find out that your company wants you to sign a non-compete agreement. A non-compete agreement is a legal document that prohibits someone from working for a competitor for a certain period of time after they stop working for a company. Many people are asked to sign one when they begin employment with a new company.
Non-competes are common in certain industries, especially competitive ones like IT, sales, finances, and media. But the truth is that these agreements favor the employers, not the employees.
Non-compete agreements are used to reduce competition but they can sometimes go too far. What happens if you want to leave the company? Where can you apply? What happens if you get an offer from a competitor?
If you signed a non-compete, you could face legal issues if you don't abide by it. Here's how to navigate a job search when you're bound by such an agreement.
Be Cautious
Avoid doing anything drastic. It's OK to look for jobs, but do it on your own time. Don't use company resources and don't tell anyone at work that you're going on interviews. If your company finds out, they could retaliate.
Find Out if the Contract is Enforceable
Many people who sign non-competes may think they are legally unenforceable. Sometimes they are, sometimes they're not. Vague and broad terms with unrealistic expectations are signs that the contract may not be enforced in court. Where you live can determine enforceability. Keep in mind that Florida has one of the highest enforcement rates.
Contact a Lawyer
If you're not sure whether or not your non-compete agreement is enforceable, you should have a lawyer look it over to be sure. You never want to assume you won't get in trouble. Many employees have gotten in trouble over non-competes. You could end up paying penalties and legal expenses.
You can avoid this by seeking legal help. Having a lawyer review your document will give you peace of mind. You can then use the lawyer's assessment to determine your next steps.
Be Forthcoming With New Employers
If you're interviewing with other companies, you may want to let them know that you're bound by a non-compete. By being upfront about your situation, the employer may be able to come up with solutions so that you can abide by the contract. Just avoid oversharing details about your current company. You don't want to disclose any trade secrets. That's something that could really get you in trouble.
Learn More About Non-Compete Agreements 
Many companies use non-compete agreements, but dealing with them as an employee can be tricky. You may need to know how to navigate them if you ever decide to leave your job.
Orlando non-compete agreement lawyer B.F. Godfrey from Godfrey Legal can help. We understand that businesses need to stay competitive, but as an employee, you want to protect your legal rights as well. Schedule a consultation today by filling out the online form or calling (407) 890-0023.
Source:
fastcompany.com/90750734/how-to-navigate-a-non-compete-agreement-during-your-job-search