Construction Contracts: Know Before You Sign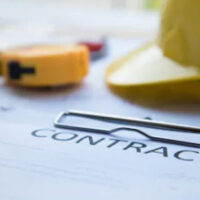 Buying an older house from a homeowner is different from buying a brand new house from a contractor. There are different contracts involved—in fact, many contractors use their own. However, you should avoid using a builder's contract if you can, as these legal documents often favor the contractor. It's better to have a lawyer draw up a contract, if possible.
If not, then you need to fully understand what you are reading. A construction contract is a legal document. If you do not abide by it, then you are breaching it. That's a legal issue that can cost you a lot of money. Here are some other things you should know before you sign.
Know the Timelines
Take note of all the dates in the contract. Understand all the timelines, including the start and finish dates and the material delivery dates. Contractors are known for late or incomplete work, so make sure you understand your rights in these regards. It may be a good idea to negotiate a penalty if the builder does not complete the home within a reasonable time frame.
Understand All the Costs Involved
Be clear on pricing. You don't want to have to deal with any hidden expenses or extra costs. Keep in mind that you may have to pay for last-minute changes, but make sure you know ahead of time how much that type of change will cost.
Get a Detailed Payment Schedule
Once you understand what you'll be paying, you then need to know when you're paying. Make sure the payment schedule is extremely detailed so you know what amounts to pay and when.
Also, make sure to know the correct payment method: are checks, credit cards, or cash preferred?
Understand the Materials You Are Buying 
The contract should specify the materials used for all the elements of the home, such as the  cabinets, appliances, windows, doors, lighting, and flooring. Keep in mind that not all materials are created equal. Quality and grade can vary dramatically, so make sure you get what you want before the builder orders the materials.
Time the Final Payment Wisely 
Make sure your builder has incentive to complete the home to your specifications. Even if you can get a certificate of occupancy, you should make sure you protect yourself from incomplete work or shoddy workmanship. Ideally, you should negotiate with the builder so that the final payment goes out only when the punch list is complete. Otherwise, you have no leverage against getting the work done.
Learn More About Construction Contracts
Construction projects require a lot of resources. Many experts are needed and it's important that the contract spells out everything and is fair to everyone involved.
Before signing a construction contract, seek legal help from Orlando construction & development contract lawyer B.F. Godfrey from Godfrey Legal. We can assess your situation and help you avoid mistakes with your project. Fill out the online form or call (407) 890-0023 to schedule a consultation.
Source:
patch.com/maryland/northpotomac/9-tips-protect-yourself-builder-contract-purchase-new-construction-home