Copyright Infringement: Celebrities Vs. Paparazzi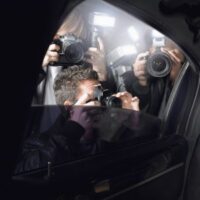 Paparazzi hiding out in bushes to get exclusive photos of celebrities are nothing new. Celebrities have been harassed by paparazzi since the 1950s in Italy. In the United States, there are many publications that focus on celebrity stories and photos. While most movie stars try to shield themselves and their families from these annoying photographers, some celebrities try to have good relationships with them.
This is the case for actress Lisa Rinna, best known for her role in "Days of Our Lives." Rinna thought she was doing the paparazzi a favor by letting them photograph her and her kids over the years. Now she is being sued by a photographer for copyright infringement.
Rinna allegedly used the photographer's images on Instagram without permission. Rinna is now shocked, since she assumed she had a good relationship with the paparazzi. She never ran from them and she was always nice to them.
But being nice apparently was not enough. Backgrid, an agency that represents photographers, demanded $1.2 million in damages from Rinna after she posted eight photos of herself and her adult daughters. Rinna refused to pay and a federal lawsuit was then filed in June 2021.
Rinna is fighting back, claiming that Backgrid is simply trying to increase its revenue during the pandemic.  With many celebrities staying at home, the paparazzi are seeing declines in income. Records show that Backgrid has filed most of its many copyright claims in 2020 and 2021.
It is unknown what Rinna plans to do next, but these cases typically settle out of court. In any case, it's easy to see why Rinna would be confused about copyright law. When a photographer takes a photo of a celebrity, they own the copyright—not the celebrity. No matter how the paparazzi behaves toward celebrities, they earn their living by selling photos.
When a celebrity uses the photos without permission, the photographer loses money. Once a photo has been posted for the world to see, "gossip rags" such as Us Weekly and People will refuse to buy the photo. After all, these publications make money by having exclusive stories and photos.
Rinna's case is not unusual. Many actors, singers, and models have misused photos and intellectual property because they're unaware of the laws involved. They believe that as the subject of the photos, they have a right to use them as they please. In any case, the photographer holds the copyright. Any violation will bring about takedown notices and potential copyright infringement lawsuits.
Learn More About Copyright Infringement
The laws can be murky when it comes to copyright infringement, especially when the materials involved are photos from the paparazzi. Celebrities who have access to these photos may feel as though they can do what they want with them, but that is not always the case.
Orlando trademark & copyright lawyer B.F. Godfrey from Godfrey Legal can assist you with your trademark and copyright needs. Fill out the online form or call (407) 890-0023 to schedule a consultation.
Resource:
diyphotography.net/actress-sued-by-photographer-for-copyright-infringement-on-her-instagram-feed-is-fighting-back/