Electric Vehicles Could Lead To Commercial Real Estate Opportunities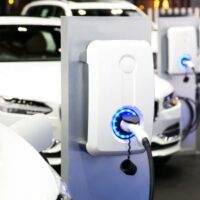 Electric vehicles have become all the rage in recent years. Tesla, Nissan, Chevrolet and other auto manufacturers are creating cars that are solely battery-powered — no gas required. However, these vehicles require frequent charging, which creates a minor inconvenience, especially since charging stations are not as common as gas stations.
That could change soon, though. President Biden's agenda includes expanding the use of electric vehicles. This means that in the next 10 years, we could see more than 18 million electric vehicles on America's roadways. That's a huge increase from the 1.6 million electric vehicles estimated to be on the road right now. To keep up with demand, commercial real estate will need to change and this could lead to an investment opportunity for retail centers.
Charging stations will be needed badly. Right now, there are only 40,000 charging stations registered with the U.S. Department of Energy. This is a low number compared to the 150,000 gas stations in the United States. The White House has big goals in this regard, hoping to increase that number dramatically to 500,000 charging stations.
This means a big opportunity for commercial real estate managers. By 2026, charging infrastructure investments are expected to top $13 billion. Those in the commercial real estate field need to capitalize on this.
Adding charging stations could bring in more revenue, much like convenience stores do for gas stations. In fact, these gas stations bring in a whopping $250 billion in revenue, and it's expected that charging stations could do the same. Since charging an electric vehicle could take around 20 minutes, that leaves time for some serious shopping. It's a good idea for commercial retailers to leverage this to their advantage. They are getting on-site customers, which is something that brick and mortar stores have struggled with for the past few years as people have turned to online shopping.
However, not all gas stations are rushing to replace gas pumps with electric chargers just yet. While Love's Travel Stops is on board to provide charging stations at various locations across six states, others aren't so quick to make changes right now. Getty Realty and TravelCenters of America, for example, don't see how replacing fuel pumps will lead to an increase in shopping revenue. At the moment, electricity is not as much of a money maker as gasoline, but that could very well change in the  next 10 years. The risk these gas stations take now could reap rewards in the years to come.
Learn More About Commercial Real Estate
With electric vehicles growing in popularity, commercial real estate will need to keep up to bring in customers who will need their vehicles charged. Having these charging stations available could bring in new forms of revenues for stores.
Orlando commercial real estate lawyer B.F. Godfrey from Godfrey Legal can help you understand the opportunities available to you. He can also assist with contracts and other legal paperwork. Get started by calling (407) 890-0023 or filling out the online form.
Resource:
convenience.org/Media/Daily/2021/Feb/26/1-New-EV-Opportunity-Commercial-Real-Estate_Fuels