Florida Ranked Best State for Small Businesses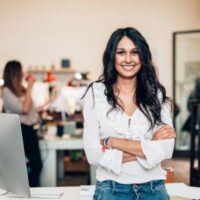 Looking to start a business? Many people have been bitten by the entrepreneurship bug. They are looking to ditch the traditional 9-5 routine and run a business on their own terms.
If you're looking to start a sole proprietorship or small business, you may wonder about location. Where's the best place to start one? Of course, not all 50 states are the same in this regard.
If you're ready to start a business, head to Florida. The Sunshine State has been ranked #1 for starting a small business, based on a study by business credit card expert Capital on Tap. The ranking was based on eight factors, including new firm survival rates, corporate tax rates, and the number of entrepreneurs per state. This data was taken from the Bureau of Labor Statistics
Florida has a corporate tax rate of just  5.5%, which allows more money to flow back into the business. The highest rate is 11.5% in New Jersey. Some countries have tax rates ranging from 30-50%, so Florida's rate is a steal.
Florida also beat out all the other states when it came to providing the most jobs created by start-ups per 1,000 residents. Businesses in Florida are viable, allowing them to employ staff and improve the local economy.
Texas ranked second to Florida due to its small-business-friendly environment. It is one of the only five states that do not levy any business tax or personal income tax. In addition, all businesses in Texas with revenues of less than $1.08 million, or total tax liabilities of less than $1,000, owe no franchise tax.
Idaho, Nevada, and North Carolina were also among the top five states for being small business friendly. The study factored in the number of jobs created by start-ups per 1,000 people, the  number of new employer businesses per 1,000 people, the percentage of adults becoming entrepreneurs per month, and the percentage of new firms surviving one year.
What the Results Show
Many people choose entrepreneurship due to a desire for independence. Entrepreneurship gives people the freedom to pursue their passion and choose their workplace and working hours. These small businesses also help foster personal growth.
Starting a business is not an easy venture. It comes with significant financial, reputational risks, and scalability risks. Hopefully the results of the study will help new entrepreneurs make informed decisions so they can find a favorable environment for their business.
Learn More About Sole Proprietorships
Whether you want to start a sole proprietorship or a larger business, Florida is the place to be. The Sunshine State offers a wealth of opportunities for those who want to be their own boss.
Orlando sole proprietorship lawyer B.F. Godfrey from Godfrey Legal can help you understand the processes and laws involved with entrepreneurship. We can help you make the right decisions to lead your business to success. Schedule a consultation with our office today by filling out the online form or calling (407) 890-0023.
Source:
careersourcenortheastflorida.com/florida-ranked-best-state-to-start-a-small-business/