Growth of Women in Franchising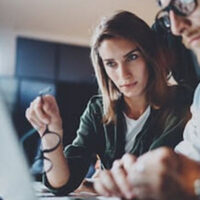 Franchising is a great way to get a business up and running quickly. It requires an entrepreneur to run an established business model, which is much easier than trying to create an idea or company on their own. Franchising appears to be especially attractive to some women, who now own one-third of franchises in the United States.
About 10 years ago, women owned 24% of the franchises in the United States. Today, that number has increased to 35%. The past two years alone saw a 41% in women-owned franchises. It is believed that a lot of these franchises are owned by women who have left their management positions in the corporate world and decided to venture out on their own. The experience, resources and connections that these women have gained at various companies gives them more confidence to run a business on their own.
But why franchising? Why don't these women start their own business? Franchising offers flexibility. Starting a business takes a lot of time and money. Women who are working in upper management do not have much time to think about their own business. Also, many women spend many years raising children, and doing so limits their resources significantly. When they decide to start a business, they can do so quickly with franchising, rather than having to start from the ground up. Many women decide to get back into the workforce later in life, when their children are grown, and franchising allows for this to happen quickly. It's a shorter and less expensive path to business ownership.
Women-Owned Franchise Statistics
The most popular industries for women-owned franchises include caregiving services (children and seniors), advertising, sales, and travel and hospitality. The top five franchises for women in its 2019 are Kona Ice, MaidPro, Keller Williams, NextHome and Wild Birds Unlimited
Women outnumber men in several types of franchises. Decorating services are 86% women-owned. Sixty-eight percent of modeling schools and beauty pageants are owned by women, with 63% of clothing, toys and accessories stores owned by women. Women also own the majority of travel agencies (61%).
Women tend to be very happy with their choice to operate a franchise. Franchise Business Review surveyed 8,800 women who own franchises. Of those, 87 percent said they enjoy operating their business. Three-quarters would recommend their franchise to others. More than 70% would do it again.
Learn More About Franchising 
Franchising is an attractive opportunity for women because it allows them to be a business owner in a quick time frame. Many women are busy raising children in their younger years, and do not always have the time and money to start a business from the ground up.
Franchising, however, is not a simple solution to making money. There are complex state and federal laws involved that can make the process somewhat complicated for many people. Contact Orlando franchising lawyer B.F. Godfrey from Godfrey Legal for guidance. He can help your franchise achieve success. To schedule a consultation, fill out the online form or call (407) 890-0023.
Resource:
bizjournals.com/bizwomen/news/latest-news/2019/12/women-increasingly-turn-to-franchises-to-owntheir.html?page=all
https://www.godfreylegal.com/the-role-of-franchising-in-esports/