How Commercial Real Estate Will Be Affected In The Future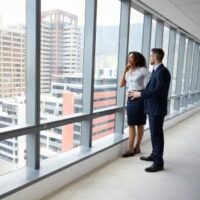 The COVID-19 pandemic has affected virtually every part of the economy since it made its way to the United States 18 months ago. While residential real estate has seen explosive activity this year, commercial real estate has been a little slow to take off.
With more and more Americans getting vaccinated, some businesses are forcing employees to return to work. Other companies are figuring out what to do. Should they continue to rent office space or keep the workforce at home?
This lack of certainty is affecting landlords and investors. However, things aren't going to stay this way forever. Investors need to prepare for the changes that are coming in late 2021 and beyond. Here are some factors that will affect commercial real estate.
Higher Demand
Low lending rates and the threat of inflation will drive demand later on as we get closer to 2022. As investors seek out higher yields, demand will continue in smaller markets.
Larger Buildings Will See More Vacancies
Not many companies will be fully staffed as workers quit their jobs to pursue remote jobs. This means that larger buildings will not be in as much demand as they were in the past. If companies force employees to return to work, the focus will be on smaller buildings.
Wider Use of Technology
Investors no longer have to operate in their home location. With the broadening adoption of technology, they have instant access to market data. This allows investors to venture outside their geographical area and create more demand for certain properties.
Great Investment Opportunity
In the past, stocks and residential properties were considered good investments. With residential properties now selling at sky-high record prices and stock prices dropping, commercial real estate is now the way to go. Low interest rates will increase demand and make these properties the hot new investment opportunity.
Shifting Expectations
In the commercial real estate industry, expectations are shifting. Consumers are expecting the same experiences from where they live and work. For example, they will want food delivery and other conveniences from wherever they are. This means that owners of commercial real estate will have to adapt, and those who adapt quickly will stand apart from the others.
Surrounding Businesses May Suffer
With fewer employees likely to return to the office, the number of vacant commercial real estate buildings will increase. This means that businesses around these properties are bound to suffer. Restaurants and retail establishments will experience fewer customers and suffer from a lack of revenue, which can cause businesses to shut down.
Learn More About Commercial Real Estate
Owning a commercial property can be lucrative, but it involves a lot of work and there can be various issues involved. You need someone with experience on your side.
Orlando commercial real estate lawyer B.F. Godfrey from Godfrey Legal has more than 30 years of experience in the field. He can help you avoid financial mistakes. To schedule a consultation, call (407) 890-0023 or fill out the online form.
Resource:
forbes.com/sites/forbesrealestatecouncil/2021/09/03/14-important-factors-impacting-commercial-real-estate-in-2021-and-beyond/?sh=3a0973a554c3