Affordable Franchises For Older Entrepreneurs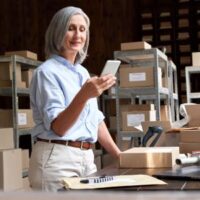 For those who want their own business but need a lot of support, a franchise is a great option. Franchises allow you to be your own boss but without all the stress of coming up with a product or service.
When you think of franchises, you may think of fast food restaurants such as McDonald's. However, there are many more opportunities than you may think. The list of franchises is varied and diverse. Plus, there are many that are affordable and great fits for older entrepreneurs.
Are you in your 50s or older and interested in a franchise opportunity? Here are some great business opportunities to consider.
Real Estate Franchises
Real estate has grown steadily during the COVID pandemic. People all over the United States are buying and selling homes as their employment and other aspects of their lives change due to the coronavirus.
Many real estate companies have profited during the past 18 months. One of them is Realty One Group. It requires $15,000 in liquid capital upfront and currently has 277 locations, although the franchise is growing by leaps and bounds. So far in 2021, the company has hired more than 3,000 real estate professionals and added 63 franchises.
NextHome is another growing real estate franchise. With 485 locations, this company requires $15,250 in liquid capital. Women and minorities have large percentages of ownership at NextHome.
Elder Care Franchises
With people living longer, there is a lot of concern about long-term care as family members age. There are a couple franchises that make these decisions easier. Senior Care Authority, a nursing home care consulting business, has 74 locations and requires $50,000 in capital.
Home Instead provides caregiving services for seniors. It requires $59,000 in capital and has 665 locations.
Household Services Franchises
Fibrenew is a repair service for leather, plastic, and other upholstery. This mobile service operates out of customized vehicles. It has almost 200 locations and requires $25,000 in capital.
If you're interested in a house cleaning franchise, consider MaidPro. The company has 5,000 trained house cleaners. It has 277 locations and requires $75,000 in liquid capital.
Other Opportunities
For those interested in a food truck-like option, Kona Ice may be a good franchise to consider. It's like an ice cream truck except for shaved ice. It boasts 1,320 locations and requires $20,000 in capital.
Payroll Vault is a small franchise that focuses on payroll, workers' compensation, and other services for businesses. It has 66 locations and requires $31,500 in liquid capital.
Interested in birdwatching? Consider Wild Birds Unlimited, which sells bird food and supplies for amateur bird watchers. This franchise has 330 locations and requires $40,000 in capital.
Learn More About Franchising
A franchise can be a lucrative career opportunity. However, it's important to find the right opportunity, as not all franchises are created equal.
Orlando franchise lawyer B.F. Godfrey from Godfrey Legal has decades of experience dealing with franchise issues. Let him help you avoid financial mistakes. Schedule a consultation today by calling (407) 890-0023 or filling out the online form.
Resource:
aarp.org/work/small-business/info-2021/affordable-franchises.html