How To Review A Business Contract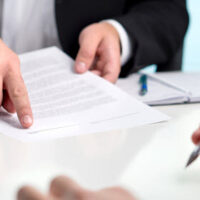 As a business owner, you have a lot to do. When it comes to business contracts, you probably don't have time to read every word. But you should.
When you don't read the fine print, you subject yourself to post-contract issues. Don't expect the other party to look out for you. Take the time to fully read a business contract so you can avoid problems down the line. For a well-written contract that offers peace of mind, here are some best practices to consider.
Read the Entire Document
Sure, most of the document may seem boring, but you need to make sure there are no errors. Is everything included in the contract? Is anything missing? Don't skip to the last page and sign your name unless everything is correct.
Don't Leave Anything Blank
Sometimes a party will leave parts of the contract blank so they can fill in parts later. Don't allow this to happen. Fill in any blank spots on your own, as well as initial and date them. You don't want the other party to fill in these blanks later and alter the contract.
Check Payment Details
Business contracts are primarily created to solidify payment schedules because the most important part of running a business is, well, money. You want to make sure you get paid appropriately and contracts are the best way to ensure this happens. Therefore, you want to ensure the contract has all the correct information, such as the payment amounts and timelines. Even the smallest mistake (such as a decimal point in the wrong place) can really screw things up, so look over the numbers with a fine-toothed comb.
Check Dates and Deadlines
The wrong dates can also mess up your production and payment schedules, so double-check that the dates listed match up to what you and the other party have agreed upon. Again, check the numbers and make sure they are accurate, as the wrong month, day, or year can mean payment delays.
Make Sure the Parties Are Listed Correctly
This may seem obvious, but mistakes regarding the names of the parties happen quite frequently. Read the contract thoroughly and make sure the parties are identified correctly throughout the document. If there are errors, this can cause legal issues down the road.
Hire a Lawyer
Contracts are often filled with legalese and other confusing language. It's never a good idea to assume you understand what the contract is talking about. It's OK to admit that you may need legal help. Hire a lawyer who has experience with business contracts. He or she will ensure that everything is fair and written correctly.
Learn More About Business Contracts
Business contracts are major documents. A well-written contract can accomplish your wishes while protecting your legal rights, but you need to pay close attention.
Orlando business contracts lawyer B.F. Godfrey from Godfrey Legal can help you make good decisions for your business. Get your questions and issues addressed. Call (407) 890-0023 or fill out the online form to schedule a consultation.
Resource:
techbullion.com/business-contract-best-practices-8-tips-for-reviewing-a-contract-responsibly/