How To Turn A Startup Into A Thriving Business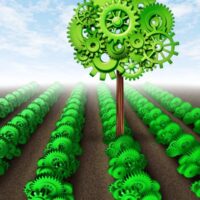 It seems like everyone wants to be their own boss and have their own business startup. However, owning your own business is not an easy venture. It's not for the faint at heart.
You may have a good idea, but does your business have what it takes to be successful? Not many do. Statistics show that 20% of businesses fail in the first year. In five years, half will fail. Only one-third of those businesses are still around after 10 years.
So if you're expecting your business to be an overnight success, it's time to be realistic. Being a success is possible, but it's not going to be easy. Here are some ways to turn your startup into a thriving business.
Have a Plan
You need a good plan in place to operate a business. That's because there are many steps you need to take and there will be many issues as you start up your business. Having a plan shows you are thinking about the future. Plus, having a plan in place is helpful if you plan to have investors on board. They will want to know that there will be a return on their investment.
Do Your Research
Business startups require a lot of market research in order to succeed. You will need to determine a target market and identify competitors. Once you have all the information you need, you'll need to do a lot of analysis to gain a competitive advantage. Testing your product or service is also a good idea so you can get feedback from your target audience.
Stay Organized 
If you're disorganized, having a successful business will be very difficult. Businesses have so many details involved, from product knowledge to marketing to accounting to staffing essentials and everything in between. The best way to be on top of everything is to be incredibly organized. This may mean creating to-do lists, checklists, spreadsheets, calendars, and anything else that will keep you on top of everything.
Be Committed
You need to believe in your product and company if you want to be successful. Success requires commitment and you need the commitment and confidence of your entire team. Without it, success becomes harder to achieve.
Be Flexible
Things are likely not going to go as planned. There will be setbacks along the way. You may have to make changes to your ideas and business structure along the way. When customers have feedback, you'll need to respond to it accordingly. This flexibility shows that you are thinking about others and not trying to serve your ego.
Learn More About Business Startups
Many people have ideas for businesses, but not all succeed. These ventures take a lot of time and money and require many skills.
Orlando business startup lawyer B.F. Godfrey from Godfrey Legal can answer your legal questions and ensure your business is properly established in Florida. Fill out the online form or call (407) 890-0023 to schedule a consultation.
Resources:
mysanantonio.com/business/article/8-Bulletproof-Ways-of-Turning-a-Startup-Into-a-16796139.php
zenbusiness.com/blog/why-small-businesses-fail/#:~:text=According%20to%20statistics%20published%20in,%2C%20only%20about%2033%25%20survive.