How To Use AI For Your Startup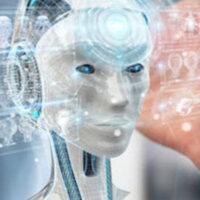 Artificial intelligence (AI) sounds like something from the future, but it's a technology that's been around for a while now. Artificial intelligence uses science to make machines smart through machine learning, voice recognition, and other concepts. As a result, machines can become capable of imitating humans and performing human-like actions.
Artificial intelligence has been used successfully in the real world. A lot of businesses are using robots and other machines to do human tasks such as monitoring social media, manufacturing products, chatting with customers online, and even driving cars.
As a business owner, you may be interested in how artificial intelligence can help your business, but maybe you're not quite sure how to incorporate robots into your startup. Maybe you're short on cash or have other pressing business concerns.
In any case, artificial intelligence is something that you should strive to understand. With the capabilities these tools offer, you can make your business more innovative and efficient. Plus, you can become more competitive in the market. Here are some ways you can use artificial intelligence for your startup.
Compete With Bigger Businesses
In the past, AI was only accessible to larger technology companies such as Google and Facebook. That is no longer the case. AI is now much more accessible to startups and other smaller businesses. There are a variety of software products and services that are easily available to entrepreneurs , including low- and no-code platforms. You can use AI to level the playing field against large corporations.
Boost Sales
You don't need a large marketing team to increase sales. AI can help by automating your startup's marketing and sales functions. Tools like Semrush and Surfer can help with blogs and other content to drive people to your website.
Improve Customer Service
Customer retention is often ignored by businesses, but it's cheaper than having to acquire new customers. You want to ensure existing customers are satisfied. You can do so with the help of conversational AI, which allows computers to carry out human-like conversations. Chatbots and mobile assistants can help in this regard, saving time and money.
Increase Employee Productivity
Artificial intelligence is quite versatile. You can use AI to automate mundane tasks such as research, data collection, customer service, and marketing. By streamlining these business operations, your employees will become more productive. This efficiency will help them focus better on their core skills and create a better work-life balance. Both employees and employers welcome the assistance of AI, making it a game-changer for startup businesses.
Learn More About Business Startups
Starting a business and being your own boss can be exciting, but there's a lot of competition. See how AI can help you get ahead of the game.
Orlando business startup lawyer B.F. Godfrey from Godfrey Legal can guide you through the process and help you position your business for success. To schedule a consultation, call (407) 890-0023 or fill out the online form.
Source:
learn.g2.com/ai-for-startups