Pros And Cons Of Using Loans For Business Startups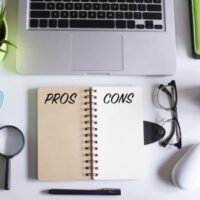 For many people, owning a business is an alluring proposition. You get to be your own boss and work the hours that you want. Still, owning a business is not for the faint of heart. To be successful, it requires a lot of time, effort, and money.
Money is especially important. Businesses often fail due to a lack of money. You need a steady cash flow to pay for real estate, supplies, equipment, payroll, and more.
To get the money they need, many entrepreneurs look to venture capital. However, this often means giving up a percentage of your company, which many business owners don't want to do.
That's why many entrepreneurs look to business loans. Loans can provide you with quick access to business capital. However, they're not right for everyone. Here are the pros and cons you need to consider.
Pros of Business Loans
Some of the benefits of business loans include:
Access to capital. A loan or line of credit can provide you with funds to pay for equipment, machinery, and other assets that require a lot of money upfront. You can use the money to pay for everyday expenses as well. There are not usually many limitations in how you use the money.
Maintain control of your business. With a loan, you maintain control of your business. You are not giving up a portion of your business, so you can run your company as you see fit.
Build credit. A credit card, line or credit, or loan are all great ways to build your credit. This is especially helpful if you have poor credit or just want to improve your credit score so you can get an even better loan down the line.
Cons of Business Loans
A business loan can be beneficial, but there are some drawbacks. They include:
Strict requirements. A small business loan is not easy to come by. Not every entrepreneur qualifies for one. You will need a decent credit score (over 600). Plus, you may need to show annual revenues of at least $100,000, which is not easy for a new business.
Business loans come with fees and interest, which can be costly, especially for those with poor credit. Plus, many lenders see startups as risky businesses, so they may charge more in fees and other startup costs.
May require personal guarantee. A business loan may require some sort of personal guarantee or collateral to ensure the lender doesn't lose out completely should you default on the loan. A personal guarantee states that you are responsible for the company debt. Collateral is used to secure the loan and means putting up an asset to secure the loan. This asset could be a home, vehicle, or anything else of value.
Learn More About Business Startups
Business startups require a lot of money, especially in the early stages. While there are many options for funding, a loan may be the easiest option.
Orlando business startup lawyer B.F. Godfrey from Godfrey Legal can help you understand your financial options. We have a strong track record of helping entrepreneurs realize their dreams. To schedule a consultation with our office, call (407) 890-0023 or fill out the online form.
Source:
finance.yahoo.com/news/pros-cons-startup-business-loans-183216527.html