What To Look For In A Business Contract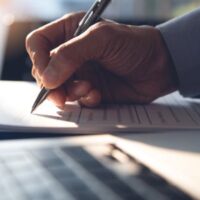 Contracts are a part of everyday life, whether you've been hired for a job, looking to serve as a vendor, or are hiring a general contractor. Contracts help identify the roles and responsibilities of all the parties involved. They help ensure everyone is on the right track and does what needs to be done to fulfill the terms of the agreement.
A contract is a legal document and needs to be treated as such. It's not something that can be taken lightly. If you don't abide by the instructions in it, there's a lot at stake. You could face legal ramifications, particularly fines and other financial penalties.
Because of this, you need to fully understand what's in your business contract. That way, if there are any errors, they are resolved before you sign. Reviewing a contract can be challenging, though, especially if you don't have a legal background. That's why you should hire a lawyer to help. Here are some things you and your lawyer should be looking for.
Key Terms
The key phrases and terms you are looking for may vary from industry to industry. However, pay close attention to the terms confidentiality, indemnification, dispute resolution, and termination. These are clauses that are most likely to affect you, so do a line-by-line check of the contract to look for these terms and ensure that what they are asking you to do is in your best interest.
Clear Language
 Read through the contract and pay close attention to the wording. Many documents are written in legalese, so look for language that is unclear. If you see anything that seems open to interpretation, it's best to revise the language to make sure it is easier to understand. This will help prevent future conflict.
Important Deadlines
Scan the contract for important dates, such as when deliverables are to be completed. This is a good time to track these dates and deadlines and ensure you and your team can adhere to them. If you know now that you won't be able to meet these deadlines, speak now or forever hold your peace. Get the dates updated before you sign or else you could be accused of breach of contract.
Termination and Renewal
Make sure you understand the contract's termination and renewal terms, as these may be important dates for you. Is the contract automatically renewed? Is the agreement longer than you originally anticipated? Can you cancel the agreement at any time or are there repercussions involved? Make sure you understand the terms so you aren't caught off guard. Set calendar reminders if needed.
Learn More About Business Contracts
Before signing a business contract or any other type of legal document, you need to know what you're getting into. Make sure you review it thoroughly to ensure the terms are in your best interest.
Orlando business contracts lawyer B.F. Godfrey from Godfrey Legal can ensure your legal rights are protected. We'll provide you with the guidance you need. Schedule a consultation with our office today by filling out the online form or calling (407) 890-0023.
Source:
lexology.com/library/detail.aspx?g=a6336040-ca4a-4e0f-acb1-aac502e43fdf