The Right Business Structure For Your Tech Startup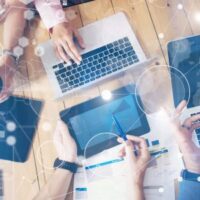 If you, like many people, have decided to quit your job and start your own business, you have an exciting but challenging road ahead of you. There are a lot of steps involved in operating a business, especially if you decide to venture into the technology field.
One of the first things you need to do when creating your business startup is to decide on your business structure. Choosing the right one is critical, as it will determine whether or not your business will succeed.
Types of Business Structures
There are several main business structures to consider: sole proprietorship, partnership, limited liability company (LLC), and corporation. Tech startups, such as those involving Internet of Things and artificial intelligence, require a lot of money to get things up and running. Because of this need for a significant amount of capital, running a tech business as a sole proprietorship or partnership is almost impossible.
Running a business under these structures limits your investment opportunities as well. Only family members and close friends will contribute financially to your business. Investors will not be interested due to the lack of credibility and protection. Your small business will stay small, so if you're looking to grow and scale, you need to look at the bigger picture.
Because of this, LLCs and corporations are the best bet for tech startups. Many business owners choose LLCs because they are a good mix of sole proprietorships and corporations. LLCs are a good option because they allow for flexibility with investors. The tax structure is also better, as LLCs do not have to pay income taxes on profits.
On the other hand, corporations are taxed twice: first, the corporation is taxed and then the shareholders are taxed. However, corporations may receive special tax statuses. Plus, many investors prefer corporations because they can issue stocks. LLCs cannot.
Another thing to consider is that with corporations, the investors have the most control. The business is in their hands, so if that makes you uneasy as a business owner, then you may want to stick with an LLC so you can have more control.
Which Option is Best?
While there is a myth that a successful tech company must be a corporation, that is not the case. Look at what makes the most sense for your business. An LLC is a good option to consider, as it can bring about many benefits for your tech startup. You can always change your business structure down the line if your business grows quickly and you want to sustain the growth.
Learn More About Business Startups
A business startup can be exciting, but there's a lot of work ahead. Make sure you take the time to work through business structures and other legal components so you position your business for success.
Orlando business startup lawyer B.F. Godfrey from Godfrey Legal can help you avoid mistakes when starting up your business. We will give you the right advice to make your startup as successful as possible. Schedule a consultation by calling (407) 890-0023 or filling out the online form.
Resource:
readwrite.com/2021/10/02/what-type-of-business-structure-is-right-for-a-saas-ai-or-iot-company/