How To Invest In The Commercial Real Estate Industry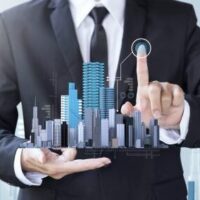 Since the COVID-19 pandemic hit the United States in early 2020, the state of the commercial real estate industry has been iffy, to say the least. With quarantines and mask mandates in place, many companies made the decision to allow employees to work remotely. While this decision was a no-brainer for smaller businesses, larger companies struggled with the decision for one main reason: office space.
Regardless, businesses still had to pay for their employees' office space, and to get their dollars' worth, many employers forced their workers to continue to come in to the office. This has caused many employees to quit so they continue working from home full time.
So now that we are approaching 2022, what's in store for commercial real estate? Is it a good investment opportunity or should you look elsewhere? Here are some opportunities to consider.
Co-Working Spaces
Instead of focusing on office space, consider co-working spaces. The way people are working has been changing for many years – even before COVID ravaged the nation. The gig economy has grown tremendously in the past few years, with more and more people engaging in freelance work so they have the flexibility to raise children, go to school, and basically work on their own terms.
However, working from home can be a challenge for many people, with children, pets, laundry, and other distractions. This is why many workers look for co-working spaces nearby to help them focus on their work. You can take advantage of this by turning office space into co-working space.
Understand the Demand for Various Spaces
When people think of empty office spaces, large metropolitan areas such as Chicago and New York City come to mind. However, people are not abandoning these cities. In fact, New York City saw twice as many new people this year than it did in 2019. That's because younger workers want to experience the diverse lifestyle these cities offer.
Suburban areas are also seeing growth thanks to remote workers being able to live in affordable housing. Because of this, investors should consider a mix of both urban and suburban spaces.
Consider Changes in Buying Habits
How businesses deliver goods to customers has changed and will continue to veer away from brick and mortar stores. E-commerce has grown tremendously due to the pandemic, and this will change the way people invest.
Indeed, investors need to think about the supply chain. Instead of thinking about commercial real estate as office space, they should consider turning this extra space into industrial and distribution facilities. These warehouses will be key in ensuring that companies are able to deliver goods to customers. Therefore, these properties should be a priority for investors.
Learn More About Commercial Real Estate
Buying real estate can be tricky right now, and commercial properties are no exception. Find out how to get into the market without making costly mistakes.
Orlando commercial real estate transaction lawyer B.F. Godfrey from Godfrey Legal can guide you through the process. We can help you deal with the complexities you may face as a buyer. To schedule a consultation, fill out the online form or call (407) 890-0023.