How To Prevent Contractor Fraud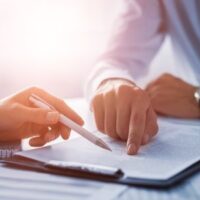 Fraud has become rampant in recent years, especially since the COVID pandemic. People are looking for ways to make money, even resorting to illegal means to do so.
Many homeowners are losing money through contractor fraud. This is when contractors get money upfront for a project and never complete the work. A lot of situations involving contractor fraud can be prevented with a good business contract. Here are some things you can include in the contract to ensure that you don't get scammed, as a contractor or client.
What You're Paying For
As a client, you want to be sure you know where your money is going. Are you paying for materials? How much are labor costs? Make sure the contract is descriptive. If you want tile floors, for example, make sure the contract explicitly states so.
As a general rule, get everything in writing. That way, in the event something goes wrong, you have a contract that outlines what you were expecting to get. You can use this in court to sue the contractor.
Payment Terms
Many scam victims end up paying the contractor the full amount up front. Never do this. Depending on the scope of the project, you should not pay any more than half the project price up front. If it is a lengthy project, then there should be a draw schedule in place. For example, you would pay a certain amount of money at different stages, such as when the foundation is completed, when materials arrive, when the building passes the final inspection, etc.
Schedule
The contract should also include some sort of schedule. Obviously, you want your project done in a timely manner and a business contract will hold the contractor accountable. The schedule should include exact dates or at least date ranges. For example, "windows to be installed by September 1." If there are any deviations to the schedule, they should be discussed beforehand so the client is aware.
Preferred Communication Methods
What happens if you have an issue or question? What is the best way to get a hold of the contractor? Is a phone call OK? Is text or email better?
The preferred communication method should be outlined in the business contract. However, keep in mind that while phone calls may be quicker and more convenient for some people, they often lend themselves to misinterpretation. There is no paper trail with a phone call, so it often becomes a he said/she said situation. If possible, stick to emails and texts so you can refer back to them if needed. They are also helpful in legal situations when you need to prove something.
Learn More About Business Contracts
A good business partnership is often based on a solid, valid contract. A well-written contract protects the legal rights of all the parties involved.
Whether you're a contractor or you're working with one, you need to protect yourself from fraud. Orlando business contracts lawyer B.F. Godfrey from Godfrey Legal can give you the advice you need to avoid financial mistakes. To schedule a consultation today, call (407) 890-0023 or fill out the online form.
Resource:
kktv.com/2021/08/27/das-office-warns-homeowners-about-contractor-fraud/