Can A Virtual Company Become A Franchise?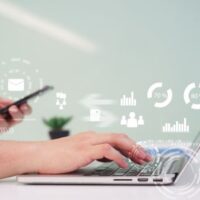 To deal with the pandemic, many companies are creating online companies. These virtual businesses come with fewer startup costs, but what happens when they want to expand? Can they become franchises like brick and mortar brands?
Many of these companies are food-related brands designed to augment the offerings of restaurant operators. These virtual restaurants come with marketing and technology assets without the need for real estate. However, they would operate as delivery only, so how does that work for franchising?
Virtual brands are still very new and when it comes to franchising, there are many legal considerations to keep in mind. While operating a traditional franchise and operating another company's virtual brand can be similar in many ways, the two can also be very different.
Virtual brands are competitive and dynamic and while they may seem trendy, they're not going to go away anytime soon. So this begs the question: Can those involved make money with these models? If so, will they be able to do so for a long period of time?
Is it a Franchise or Just a Virtual Brand? 
There are two large virtual brand operators: Virtual Dining Concepts and Nextbite. While both offer turnkey brands, neither considers itself a franchisor.
Nextbite calls its restaurant operators "fulfillment partners," while Virtual Dining Concepts calls them "market partners." They do not fulfill the legal requirements for franchising.
Under the Virtual Dining Concepts model, restaurant operators use the brands that work best for their kitchen setup. They pay approximately 40% of their sales to Virtual Dining Concepts, which handles third-party deliveries, marketing, and much more. That leaves 60% of sales, with 30% of that going toward food and packaging costs. The restaurant owner receives about 30% in profit.
However, The Local Culinary, which is based in Miami, is a virtual brand franchisor. It offers 50 in-house brands, with most franchisees taking on 10-15 of those brands. Franchisees pay an entry fee, as well as royalties and a marketing fee. The Local Culinary offers training and support.
Ultimately, those who want to expand their virtual brand should approach the expansion as a franchise. For example, if a company is offering rights to a trademark and is being compensated for use of that trademark, then it should be considered a franchise.
The franchisor would then have certain obligations to follow, like filing disclosure documents. In any case, if there is a franchise relationship and the operator does not recognize it as such, it could result in legal consequences. There will likely be disputes about this in the near future.
Learn More About Franchising
Franchising is a huge investment with a lot of legal implications. Does your virtual company qualify as a franchise? Is that how you want to build the brand?
Orlando franchise lawyer B.F. Godfrey from Godfrey Legal can give you expert advice about the process and help you avoid common mistakes. Contact us to schedule a consultation. Fill out the online form or call (407) 890-0023.
Resource:
nrn.com/delivery-takeout-solutions/are-virtual-restaurant-brands-new-frontier-franchising