Creating the Ideal Website for Your Transactions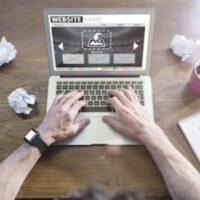 Are you considering creating a website for your business? If so, then you need to know how to build one, and this can be challenging. The most important page on your business' website is the transaction page, which is where all your marketing efforts occur. For this page, you can use a custom form or a formal shopping cart. Whether you plan to do all the work yourself or hire a webmaster, you need to know what elements to put in place to create a website that can not only handle your needs, but also provide security and the ultimate in functionality.
Website transactions may seem easy on the consumer side, but it's not so easy on the business' end. There are many legal issues and concerns to be aware of. Keep in mind that consumers will need to use credit cards on your site, so your site will need to be trustworthy and safe. Your site should also be easy to use. If your customers can't figure out how to make a purchase and use their credit card without too much hassle, they'll simply give up and use a competitor. Don't let that happen to you. Here are some tips to help you gain traffic and revenue on your site.
Tips for Transactional Websites
Use a professional domain name. You don't have to spend thousands of dollars on a website, but you should at least get one that looks legit and professional. At the very least, your company's name should be in the domain. Consider a website from GoDaddy or BuyDomains.
Get a Secure Sockets Layer (SSL) certificate. You can get an SSL certificate from your domain service provider so you can secure all online transactions with 256-bit encryption. This will protect sensitive data and keep it safe from hackers or spammers.
Make the site easy to use. Customers will steer clear from a site that looks too complicated. Your site should be user friendly and easy to navigate. You don't have to make it too fancy.
Be detailed. Consumers want to be fully informed before making a decision. The more details you can provide about your product or service, the better. Adding pictures and user reviews can also be helpful.
Set up PayPal functionality. Most users trust PayPal, so if you want consumers to feel more secure using your site, allowing payments via PayPal is a good first step. PayPal is free to use, so consider adding it to your site to boost sales.
Learn More About Website Transactions 
If you plan to sell products or services online, you need a good website. The best website will be attractive, functional and secure.
Contact Orlando domain name & website transaction lawyer B.F. Godfrey from Godfrey Legal for help with the process. He can help with your website's performance and functionality. Schedule a consultation by calling (407) 890-0023 or filling out the online form.
https://www.godfreylegal.com/how-to-sell-an-online-business/