Florida Man, Several Others File Copyright Infringement Lawsuit For Song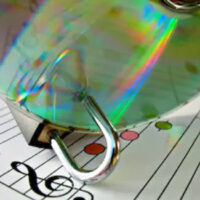 There are a lot of songs that sound alike, and that's to be expected. After all, there are an estimated 97 million songs in the whole world. There are only so many different note patterns, beats and riffs. It's possible for someone to write a song that they believe is unique, only to find out that they have unintentionally plagiarized the lyrics or rhythm.
A gospel group called The Nevels Sisters, as well as a Florida musician, are suing two people for copyright infringement. The Ohio-based group — which includes Gail Nevels Stringer, Venice Nevels Andrews and Debra Nevels Jordan — has filed a lawsuit in U.S. Court Northern Ohio District. Musician Eddie Howard is also a plaintiff in the lawsuit. He currently lives in Miramar, Florida.
The plaintiffs are seeking monetary damages for the infringement of their song "Abundance of Rain." The group, along with various vocalists and musicians published, sold and publicly performed the song. They sold records bearing the song and performed the song live.
The two defendants — Derek Scott Bergheimer and Dawn A. Richard — live in California and Louisiana, respectively. Richard is managed by Los Angeles-based Monotone Management. The song in question is "Abundance of Rain, which was recorded in Ohio in April 1990 for the album "Now Is the Time To Seek The Lord." Parts of the gospel song were allegedly used to create a song called "Sauce," which was recorded in 2019 for Richard's album "New Breed." The infringement allegedly occurred in the refrain "Let it fall on me."
An audio version of the defendants' version can allegedly be found online on YouTube. The defendants are currently streaming the song "Sauce" on the internet, which means they are continuing to infringe on The Nevels Sisters' work.
The Nevel Sisters claim that the defendants used their song without any consent or authorization. As a result, the Nevels Sisters claimed that they lost goodwill in the gospel music industry. Their lawsuit is requesting $150,000 in monetary damages for each time "Sauce" has been played in public, as well as any profits the defendants received from the song. The lawsuit is asking that the song no longer be used or distributed. It is also accusing the defendants of using the Nevel Sisters' voices for commercial use without permission.
The Nevel Sisters are requesting a civil jury trial. As of March 29, the defendants had not yet responded to the lawsuit.
Learn More About Copyright Infringement 
A song is a personal work of art. Using parts of a song to create your own without the songwriter's permission is considered copyright infringement. A person can be sued and ordered to pay a significant sum of money — sometimes even millions of dollars.
Orlando trademark & copyright lawyer B.F. Godfrey from Godfrey Legal can help protect your artistic works. We can also help you seek legal action against those who try to use your work and make a profit on it. Call (407) 890-0023 or fill out the online form to schedule a consultation.
Resources:
vindy.com/news/local-news/2021/03/lawsuit-alleges-songs-copyright-infringement/
marsbands.com/2011/10/97-million-and-counting/#:~:text=According%20to%20MusicHype%20CEO%20Kevin,songs%20in%20the%20Gracenote%20database.