Focusing On Company Culture For Startup Success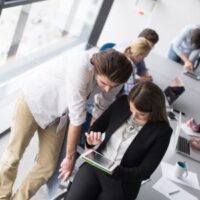 In a business startup, there's a lot going on. Your focus is likely on promoting your product or service and making money. While these are good goals to have, sometimes something more important gets overlooked: company culture.
Many companies tend to think that company culture is all about free massages, bringing your dogs to work, ping pong tables, and unlimited beer. While those can be nice perks for the right employees, company culture goes beyond that.
The right culture should also include respect, teamwork, and employee health. Diversity and inclusion are also important. Everyone is different, and as such, all employees should feel safe and accepted in expressing their uniqueness at work.
Not all companies have that culture, though. They are more focused on having everyone work long hours to achieve goals. This leads to burnout as physical and mental health suffers.
How do you build a company culture of success? Here are some steps to take.
Communicate Well
All relationships require excellent communication. If you own a startup, you need to prioritize communication as well. Regularly reinforce the company's core mission and values. Involve the team in business deals and ask for their input in terms of short-term and long-term goals. Ask for input and feedback about the company as a whole. This will make employees feel more included.
Reward Employees
Employees want more than a fun break room. Give them what they really want: money. Give top employees raises. Hand out bonuses. Offer equity in the company. Show employees that you're invested in them and proud of their hard work.
Be Prepared to Make Hard Choices
At the same time, you need to keep your eye on your mission and values. If an employee is not a good fit, don't be afraid to let them go. It can be a hard choice, but it's one that can benefit your company in the long run.
Own Up to Your Mistakes
Things will go wrong in a business. Not everything will be sunshine and rainbows, so don't sugarcoat your mistakes. When something goes wrong, admit it and discuss it with the team. Come up with ideas on how to avoid the same mistakes in the future. This will create transparency and avoid distrust.
Make Sure Work is Enjoyable
Startups require a lot of work, but the work should be enjoyable. If employees don't feel connected to the underlying mission, then it can lead to negativity, and you want to avoid that in a startup. Have honest discussions with team members about what they like and what can be improved. Nobody should feel as though their work is not important.
Learn More About Business Startups
Startups are hard. Having the right company culture in place can put your business on the path to success.
03Schedule a consultation with our office by calling (407) 890-0023 or filling out the online form.
Source:
entrepreneur.com/growing-a-business/the-5-steps-to-building-a-culture-of-success-in-a-startup/443818