How Businesses Will Change in Wake of COVID-19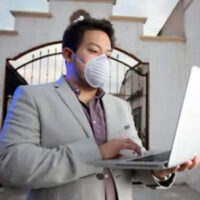 The coronavirus crisis has led to a lot of changes in America. Millions of people have lost jobs. Shelter-in-place orders have made it difficult for people to keep in touch with friends and family members. The future of schools, sports and group activities is uncertain.
Businesses will see change as well. While many have had to shut down for the past 2-3 months, many are starting to reopen. They will face a lot of health and safety recommendations along the way as they brace for a new normal.
Businesses will need to be flexible. No business will be able to operate as they did before. Many will require employees and customers to wear masks. They may require temperature checks. Some may put up glass partitions to protect employees. Telecommuting may become the new norm, instead of an action that was frequently discussed but never implemented.
Businesses will see other changes as well. Some may see more government scrutiny. With the government spending billions of dollars on small businesses to help with the economic stimulus, you can bet that lawmakers will want to ensure that this money is spent wisely.
Also, the economy will become more contact-free. Many stores are already implementing curbside and contactless pickup and delivery, and this will continue even as the threat of coronavirus wanes. Consumers will change their shopping habits and try to purchase items online for added convenience and safety. Even the medical field is going remote, with telemedicine services hiring more doctors for video calls.
While many people will want to get back to normal and do their errands in person again, businesses can still expect to make adjustments. They may need to reallocate funds and focus more on online options to increase their customer base. Companies will also need to tweak their business models to weather the financial storm caused by the COVID-19 pandemic.
Nobody could have predicted the spread of the coronavirus and the damage it would cause individuals and businesses. Now, backup plans will be a necessity in case another wave of COVID-19 hits and causes another lengthy shutdown. Resiliency will be just as important as cost and efficiency.
While the future of entrepreneurship may seem like doom and gloom, there are some positive outcomes to be seen. Businesses will be looking for new ways to connect with individuals and communities. To save time and money, businesses will look for cheaper and faster ways to operate. The workplace will be more flexible, with management allowing for remote working and virtual meetings.
Learn More About Business Transactions
The coronavirus has brought about a new normal, and businesses will need to learn to quickly adapt. This may mean finding new ways to operate and changes to staffing.
Purchasing a new business? Need to make changes to your current business? Orlando business lawyer B.F. Godfrey from Godfrey Legal can give you the advice you need. With more than 30 years of experience, he can effectively guide you. Schedule a consultation by calling (407) 890-0023 or filling out the online form.
Resource:
fortune.com/2020/05/01/business-reopen-economy-coronavirus-new-normal/
https://www.godfreylegal.com/changing-your-business-name-what-you-need-to-know/