Changing Your Business Name: What You Need to Know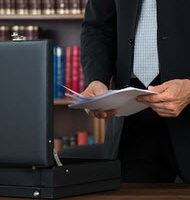 Attitudes and opinions change over time. What you thought was a cool name for your business five years may now make you cringe. Your company name may no longer reflect your business goals. If this applies to you, you may want to consider changing your name.
Changing your business name is possible, but the process varies, depending on the type of business formation you have. Plus, before you change your name, you must do some research and ensure that the name is not already taken. Read on to understand the steps for this sometimes confusing process.
LLCs and Corporations
If you are an LLC or corporation, you can change your name in one of two ways. You can get rid of it entirely or create a different name for marketing purposes while holding onto your original name.
If you want to completely change your name and start with a fresh new one, you can do so by filing a document called "Articles of Amendment." Once it is approved, you can begin using your new name.
If you have built a strong customer base using your original name, you may want to keep it intact and then create a new name for marketing purposes. In these situations, you can keep your business's original name and simply file a DBA.
Sole Proprietorships and General Partnerships
These entities do not have official business structures with the state, but they can still file a Doing Business As (DBA), or fictitious business name. To change a DBA, cancel your existing one and file a new one. You will need to check with your bank to see if your current bank account's name can be changed or if you will be required to open a new account.
Some government entities require that licenses and permits be updated. Also, the IRS may require that you get a new Employer Identification Number (EIN) when getting your DBA. You can write to the IRS at the address listed on your tax return.
Other Things to Consider
When changing your business name, think about all the documents that contain your business' old name. This may include letterhead, various documents, manuals, signage, advertising materials, websites and company vehicles. These will all need to be changed to reflect your new company name. This can be a huge undertaking. Is it worth the time involved?
You will also need to communicate your new name change with your clients, especially if it is totally different from the old name. There is bound to be some confusion, so send out emails, postcards and other marketing materials right away to retain your customer base and keep the revenues coming in.
Learn More About Business Law 
Business law can be complicated. Even something as seemingly simple as changing your company's name can have legal implications. Make sure you get the help you need from an experienced lawyer who can save you time, money and headaches.
Orlando business lawyer B.F. Godfrey from Godfrey Legal can help you through the process. He can assist you with various aspects of your business. Schedule a consultation by calling (407) 890-0023 or filling out the online form.
https://www.godfreylegal.com/buying-a-domain-name-follow-these-tips/