Mergers And Acquisitions In The Healthcare Field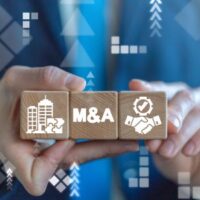 Mergers and acquisitions are common in the business world. These business transactions combine two companies into one so that the companies have an edge over competitors.
The healthcare industry saw some activity in this regard, but not as much as expected. While the first three quarters of 2022 saw a lot of mergers and acquisitions, activity slowed down in the fourth quarter. In the fourth quarter of 2022 through November 15, there were 251 deals, which is a lot less than the 307 deals announced during the same period in 2021.
Deal values also peaked in 2021, with mergers and acquisitions generating $217 billion. Values declined in 2022, bringing in $127 billion through November 15. Close to $62 billion came from  mega transactions in which the smaller party had an annual revenue of at least $1 billion.
The home health and hospice subsector was one of just two sectors that saw an increase in deal value in 2022. There were 114 home health and hospice deals, which led to a 74% increase in deal value when compared to 2021. Two mega transactions were behind this growth: UnitedHealth/Optum's acquisition of LHC Group for $6 billion and CVS' acquisition of Signify Health for $8 billion.
In 2022, there were seven mega transactions. They include an $18 billion merger between two healthcare real estate investment trusts and an $8.9 billion acquisition of Summit Health-City MD by Village MD.
While 2022 merger and acquisition deals may have been lackluster, experts are predicting much more activity in 2023. Researchers predict that activity will go back to prior year levels across all subsectors. Biotech is expected to see some growth, with mergers and acquisitions focusing on oncology and immunology. The vaccine, central nervous system, and cardiovascular disease spaces should see some activity as well. Overall, strong cash flow will stabilize merger activity in 2023.
Benefits of Mergers and Acquisitions
Companies engage in mergers and acquisitions for various reasons. One of the most common ones is the combined forces of two companies vs. one. The resulting merger creates one big company that is stronger and more efficient. Plus, there is access to a larger amount of capital.
There is also a competitive edge as well as access to more talent and resources. It's also important to consider that some companies have resources that others do not, so it can be cost-effective to merge with a company that has the facilities and equipment  you desire.
Learn More About Mergers and Acquisitions 
A sole proprietorship may be a good option when you're first starting your business, but it can be a disadvantage as your business grows. Learn more about this business formation option.
Orlando merger & acquisition lawyer B.F. Godfrey from Godfrey Legal can help you understand the variables involved and any potential legal issues so you can avoid common mistakes. Fill out the online form or call (407) 890-0023 to schedule a consultation.
Source:
revcycleintelligence.com/news/experts-predict-strong-merger-and-acquisition-activity-for-2023