Why Startups Should Consider Old-Fashioned Loans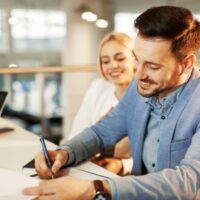 Back in the day, business owners relied on loans. You know, those large amounts of money you got from the bank. But in the past decade, venture capital has been the big thing. A venture capitalist is a private investor who provides capital to companies with high growth potential. In exchange, they get an equity stake in the company.
Raising venture capital has been a great way to grow a startup. It helps infuse companies with much-needed capital to fund operations. However, relying on venture capital comes with downsides. There's no obligation to pay back the money, so there are no constraints. Entrepreneurs are more likely to blow the money on non-essentials. They don't have the financial discipline to spend money as needed.
We're in rough economic times. The venture capital money just isn't flowing like it used to. Plus, it's more important than ever to generate cash flow. That's why startups need to consider alternative financing, including "old-fashioned" bank loans.
Raising money is often seen as a sign of success. That's why many companies opt for venture capital. It gives them a feeling of success. Sometimes it results in favorable press.
However, raising money is not an easy task. It takes a lot of time. For some, it can even be a full-time job. This can negatively impact the business. The business gets neglected, possibly causing it to fail.
Dilution is another issue. When a business owner raises money for a business startup that's not generating revenue yet, the business valuation tends to be low. This means that the amount of equity that must be relinquished is high. This tends to happen when a startup raises more money than it needs.
Another thing to consider is that venture capitalists are not just giving away money. They have their own expectations because they, of course, want to make money. That means they want  the companies they invest in to grow quickly. They're not going to wait around for many years to get their money back. They want profit, and they want it quickly.
In any case, more startups are interested in loans and taking on debt because venture capital is going away. Loans come with risks and obligations. The business has to pay back the loan or be in default.
That's why business owners would rather use someone else's money to grow their business. But this is not always possible or a good idea. Generating profits requires taking smart risks. If an entrepreneur is not willing to take a risk in order to pursue those profits, then a startup might not be right for them.
 Learn More About Business Startups 
When it comes to funding options for your business, things change. The economy is still recovering from COVID, so what worked several years ago may not work anymore.
As an entrepreneur, you need to be able to adapt. Seek legal help from Orlando business startup lawyer B.F. Godfrey from Godfrey Legal. We'll help you realize your dreams and avoid common mistakes. Schedule a consultation today by calling (407) 890-0023 or filling out the online form.
entrepreneur.com/starting-a-business/startup-founders-dont-be-afraid-of-an-old-fashioned-loan/441242