Non-Compete Agreements For Physicians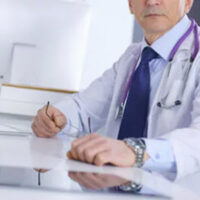 For employees, the term "non-compete agreement" is often seen as a bad word. A non-compete agreement is a clause that states that an employee will not be allowed to take a similar position with another party. In essence, these legal documents prohibit workers from leaving a company to take up employment with a competitor within a certain distance and for a certain period of time. For example, a worker may not be allowed to work for a competitor that's within a 20-mile radius for a period of one year.
Non-compete agreements mainly benefit the employer. As such, these agreements may have strict restrictions. This often limits a worker's employment opportunities, forcing them to relocate.
Non-compete agreements can be found in many industries, from technology to hair salons to the medical field and even retail and fast food. In fact, these agreements are very common in the medical industry, with 90% of doctors bound by them. While physician non-compete agreements are common, they are sometimes contentious, as they can negatively impact doctor-patient relationships and even remove physicians from the workforce.
The good news is that President Joe Biden has worked to crack down on non-compete clauses. In 2021, he signed an executive order asking the Federal Trade Commission to limit noncompete agreements or even ban them altogether. It is hopeful that the executive order will promote competition between employers, resulting in wage increases for workers. Non-compete agreements harm American households, costing them an average of $5,000 a year.
On a broader note, the executive order could help create federal regulation for non-compete agreements. Currently, each state has its own laws in this regard. Just four states—California, North Dakota, Montana, and Oklahoma—ban all non-compete agreements. Non-compete agreements for physicians are typically void in Massachusetts, New Mexico, South Dakota, Colorado, Delaware, and New Hampshire.
In the United States, as many as 60 million workers have non-compete agreements in place, including doctors and other healthcare workers. There can be some confusion about these documents, as some states treat them differently depending on who signed them, whether it was a physician or a nonphysician.
While non-compete clauses tend to have a lot of limitations, they cannot prevent physicians from using general skills or knowledge. This means that an orthopedic surgeon could not be prohibited from practicing orthopedic surgery. Since that is their specialty, they would essentially be unable to practice medicine at all, which is not allowed.
Learn More About Non-Compete Agreements
Non-compete agreements are used in a variety of industries—not just in the legal field. In many cases, there are numerous restrictions for employees, which often makes these agreements unfair.
Orlando non-compete agreement lawyer B.F. Godfrey from Godfrey Legal can help you understand your non-compete agreement. Such a legal document should not be taken lightly, so make sure you are following the terms. Schedule a consultation by calling (407) 890-0023 or filling out the online form.
Source:
beckersasc.com/asc-news/noncompete-agreements-what-physicians-should-know-in-2022.html\