Orlando One Of The Top Areas For Business Startups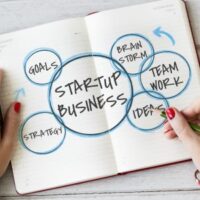 Despite the coronavirus pandemic causing companies all over the country to shut down, entrepreneurs are moving forward with their business ideas. The pandemic isn't stopping them from fulfilling their goals. They are moving forward, especially in the Florida area, where business startups are on the rise.
In the U.S., Orlando is ranked as the #2 metropolitan area for business startups. The rate is 10.95%, which is the percentage of new companies divided by the total number of companies. In the Orlando-Kissimmee-Sanford area, that amounts to 4,861 business startups in a given year. These businesses create roughly 25,533 jobs each year, or just under 17% of new jobs in the area. Many of these businesses are in industries such as real estate, IT consulting, construction, finance and recruiting.
The fact that Orlando is a hot city for business startups is hardly a surprise. The Florida city was ranked as the best city for startups in 2019. Orlando beat out other hot areas, such as California's Silicon Valley and New York City. The city's #1 ranking was based on 19 factors, including job growth, affordability of office space and the five-year survival rate of businesses. Orlando also has many opportunities for new companies, such as co-working spaces, seed funds and special accelerator programs. The business climate is very favorable due to tourism and a relatively low cost of doing business.
Construction has also been on the rise in Orlando, as has the technology sector. There are more than 200 aerospace companies in Orlando alone.
To be fair, though, starting a successful business isn't as easy as it looks. No matter where you decide to base your business, it will take a lot of time, money and hard work to create a lasting company. Coming up with a name and logo may be the fun parts of owning a business, but that's not all you'll need to do.
You will also need to do a lot of research at first to ensure you have a viable product or service that consumers will pay for. Even before you start selling your product or service, you will need to build your brand. If you don't, you'll be struggling to find customers on Day 1 and it'll take longer to make money.
Speaking of money, you'll need a lot of money when you first start out. New, growing companies go through money very quickly, so save up as much as possible. Borrow money from friends or family members or get loans if possible. You can never have too much money in the beginning.
Learn More About Business Startups
Orlando and the Central Florida areas are prime locations for startup businesses. The area is growing rapidly, plus it is a popular tourist area, allowing businesses to flourish.
Orlando business startup lawyer B.F. Godfrey from Godfrey Legal can help you put your ideas into motion. Get your business started on the right foot with his experience. To schedule a consultation, call (407) 890-0023 or fill out the online form.
Resources:
inc.com/emily-canal/best-cities-for-starting-business-orlando-florida.html
newsbreak.com/florida/orlando/news/2176323610098/report-orlando-among-areas-with-the-most-startup-businesses