Sole Proprietorship vs. LLC: Which Should You Choose for Your Company?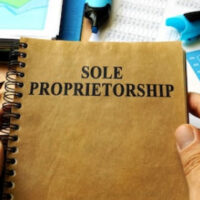 You've decided to move forward with your home-based business. Maybe you plan to sell food or gifts. Perhaps you will sell services, such as construction work or writing services. If you are the only one who owns the business, then your first thought may be to go the sole proprietorship route. It's inexpensive and easy to do so. Besides getting a business license, there's not much else you have to do to get your company up and running.
What to Know About Sole Proprietorships 
Sole proprietorships are one of the easiest ways to start your business. You can simply call the business your own name or change it to something else. If you do, you will have to file a "Doing Business As" name in your state, but doing so is easy and inexpensive. Taxes are also easy because you can enter your business profits and losses on your individual tax return; no separate return needed.
However, there is one major disadvantage you should be aware of. In a sole proprietorship, everything is on you. This is especially true when it comes to liability. If someone is injured from a product you sold or is not happy with a service you performed, your assets on the line. You can be personally sued and be forced to give up all your money, your home, vehicles and anything else of value. 
What to Know About LLCs
A limited liability company, or LLC, offers a clear advantage over a sole proprietorship in that it offers asset protection. If a customer does sue your company, the person is limited to the assets of the LLC. You would not be forced to give up any personal assets. Also, if your LLC consists of just you, you can use your individual tax return to enter your profits and losses. Once you add partners, however, tax returns become more difficult.
With an LLC, though, you'll need to file a certificate of formation and pay filing fees. The filing fee varies from state to state. In Florida, the fee is $125. The naming and formation requirements can be confusing, though, so it may be beneficial to seek help with this process.
Another thing to consider with an LLC is that you can choose a different state than the one you reside in to be your home base. If you plan to raise capital, then it is recommended that you choose Delaware as your home state, as this is the top state for investors. If you go this route, it is costly and more time-consuming, so keep that in mind.
Learn More About Sole Proprietorships
When starting a company on your own, you have several options to form your business. While a sole proprietorship may seem like the obvious choice for an individual, there are pros and cons to consider.
Make the right decision to secure the success of your business. Discuss your concerns with Orlando sole proprietorship lawyer B.F. Godfrey from Godfrey Legal. He has decades of experience helping entrepreneurs deal with legal issues and avoid mistakes. Schedule a consultation by filling out the online form or calling (407) 890-0023.
Resource:
entrepreneur.com/article/241546