The Weeknd Reaches Settlement In Copyright Infringement Case Involving Hit Song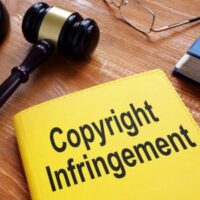 Songwriting takes a lot of skill. Writing lyrics that make sense and tell a story, along with inventing a catchy beat, is often not something that happens overnight. It often takes many songwriters and many hours of collaboration to write a hit song.
You may think you have the perfect song. But then it becomes a hit that is played everywhere, all the time. And then you are suddenly sued for copyright infringement.
This is what recently happened to R&B star The Weeknd. The Weeknd — who was recently named the most popular artist in the world by  Guinness World Records due to having the most monthly listeners on Spotify, with 111.4 million — has recently settled a copyright infringement lawsuit for his hit song "Call Out My Name," which was released in 2018.
The song features a minimal, melancholy R&B sound in the background. That was enough for electro duo Epikker to file a lawsuit, claiming that the vocal hook and lead guitar part in "Call Out My Name" is similar to their song "Vibeking."
According to the lawsuit, both  "Call Out My Name" and "Vibeking" have similar material in their melodic, harmonic, and rhythmic elements. In addition, both works are in a 6/8 meter, which is not common in popular music. Both songs are played at a similar tempo and use features of pop, hip-hop, R&B, and rock to achieve a particularly atmospheric and melancholic sound.
Funnily enough, "Vibeking" was never even released. However, Epikker claims that The Weeknd's — real name Abel Tesfaye — had heard of the track. In fact, Tesfaye's engineer told the band that The Weeknd had listened to the song and even enjoyed it.
Now, a new filing in the case states that all parties have reached a settlement. "Because the parties are still in the process of formalizing, executing, and consummating that settlement, The terms of the settlement have not been made public.
How Does Copyright Infringement Work? 
When it comes to songs and other compositions, there are no legal rules permitting the use of a specific number of words, a certain number of musical notes, or a certain percentage of a song that has allegedly been copied. There's a fine line between inspiration and plagiarism, so whether a particular use qualifies as fair use depends on the circumstances. It often involves proving that a songwriter knew about the song. If they did, then the courts will often rule in favor of the plaintiff.
Learn More About Copyright Infringement
Copyright infringement cases often happen in the music industry. It's not hard for one song to sound similar to another song, but does that mean it has been plagiarized?
Do you think you might have a case? If so, contact Orlando trademark & copyright lawyer B.F. Godfrey from Godfrey Legal. We can help you prevent this type of situation by securing your valuable ideas. To schedule a consultation with our office, call (407) 890-0023 or fill out the online form.
Source:
nme.com/news/music/the-weeknd-settles-call-out-my-name-copyright-infringement-case-3416232