Types of Business Contracts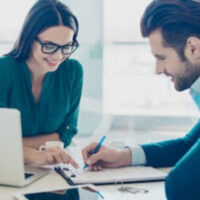 Businesses are legal structures that involve a lot of elements. That's why they should be governed by contracts. Contracts help guide various decisions, from hiring employees to creating business relationships. They also help with leases and sales. Without contracts, there may be disorganization and even chaos.
Contracts contain legal language that makes them valid in court. Therefore, they are good ways to protect you and your business from losing your hard-earned money. There are multiple types of contracts that your business may benefit from. Read on to learn more about the four main types of business contracts.
Employment Contracts
Many businesses—even small ones—have employees. It's important to have contracts in place when hiring employees so they know what is expected of them. A contract can define pay, benefits and job duties. It can also outline the things that an employee is prohibited from doing, such as working from a competitor, sharing trade secrets with others or leaving the company before a certain date. If you use an independent contractor (such as a freelancer), it's a good idea to have a contract in place so they understand they are not entitled to the same benefits as an employee.
Sales Contracts
Individuals may use sales contracts such as bills of sale when transferring a car to another party. Businesses should do the same when rendering goods or services to another party through a purchase order or other type of agreement. When offering a warranty or allowing for a payment plan, a contract should be drawn up as well. A contract outlines the responsibilities of both parties so there is no confusion about what they need to do. If they fail to abide by their end of the deal, they can face penalties, which are also outlined in the contract. For example, they can be sued.
Lease Contracts
Leases are often used for property and equipment. Equipment leases can be used for outdoor equipment such as tractors and trailers or may include indoor supplies such as computers and printers. Leases are also done when a company rents a building or other type of office space. Leases last for a specific period of time and outline the terms and conditions involved.
General Business Contracts
For any other situation not listed above, you can employ a general business contract. For example, if you create a relationship with a client, allow an employee to telecommute or agree to work with another company on a joint project, you'll want to create a contract. No matter what type of arrangement you have with another entity, it's best to get it in writing. Otherwise, it will be difficult to enforce the terms and take the other person to court.
Learn More About Business Contracts 
Contracts are available to deal with a variety of business concerns. These legal documents are integral to your everyday business operations.
Protect your business with help from Orlando business contracts lawyer B.F. Godfrey from Godfrey Legal. He can create a contract that fits your specific needs. Schedule a consultation by calling (407) 890-0023 or filling out the online form.
Resource:
smallbusiness.chron.com/kinds-business-contracts-21269.html
https://www.godfreylegal.com/tips-for-writing-a-solid-business-contract/