Walmart and Target Suing Florida Over Liquor Sales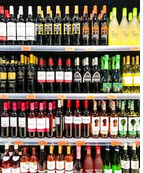 Big box retailers tend to think that they are exempt from the same rules that smaller businesses must abide by. This is especially true when it comes to liquor sales. Major retailers such as Target and Walmart are now suing the State of Florida for not allowing them to sell liquor by the bottle in their retail locations throughout the state.
For the past five years, Walmart and Target have tried unsuccessfully to get Governor Rick Scott and the state legislature to allow them to sell alcohol by the bottle. Now, they're taking legal action and filing a lawsuit.
Right now, retailers can only sell if a wall is separating the liquor from other grocery items. This "wall" was almost torn down last year, but Gov. Scott vetoed the controversial "whiskey-and-Wheaties bill." This bill would have removed the requirement that hard liquor be sold in a separate store. Beer and wine can already be sold in grocery stores.
Gov. Scott vetoed the bill after hearing concerns from liquor store owners. They feared that they would not be able to compete with big box retailers. Walmart, Target and Costco supported the bill, as they would be able to advertise pallets of liquor in plain sight. Small liquor stores simply cannot keep up and would have to shut down. This would affect job growth in the state.
In addition, Gov. Scott alluded to his family's own struggles with alcoholism as a reason why he decided to veto the bill. He believes that restricting liquor sales is in the state's best interest. The current laws in place will protect small business owners as well as minors.
Walmart and Target are not happy with the decision. The retailers now claim that they should qualify for liquor licenses that allow for alcohol consumption on premises, since many of their locations are licensed as restaurants. To allow for such a license, liquor must only be sold next to "items customarily sold in a restaurant." However, there is no statute in place that defines those items.
Walmart and Target claim that Florida is not consistent with this law. For example, hotels have consumption-on-premises licenses, but do not sell items that would normally be found in a restaurant.
Should Walmart and Target win their lawsuit, they would be able to sell liquor on the shelves of their stores throughout the state. They would also be allowed to sell alcohol that can be purchased by customers and consumed while shopping inside the stores.
Learn More About Liquor Licensing
Applying for a liquor license in Florida is not an easy task. Licenses can be very expensive so many business owners try to win them. The laws are strict and each state has its own requirements.
Orlando liquor license lawyer B.F. Godfrey from Godfrey Legal can assist with the process for obtaining a temporary or permanent license. He has the knowledge to offer valuable advice to entrepreneurs. Call (407) 890-0023 or fill out the online form to schedule a consultation.
Resources:
news4jax.com/news/florida/big-box-retailers-sue-state-renewing-whiskey-and-wheaties-debate
floridapolitics.com/archives/238542-scott-veto-whiskey-wheaties