What Will Happen To Commercial Real Estate As The Economy Improves?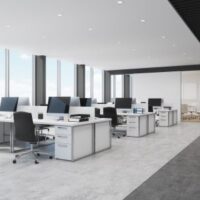 When the coronavirus hit the United States in early 2020, many businesses were affected. Hotels, retail spaces, and offices shut down as the virus forced Americans to quarantine in their homes. Companies were unable to make money and as a result, they stopped paying the rent on these buildings. More than a year later, the commercial real estate industry is still struggling.
That's because the companies that are still thriving have been successful by making changes to their established business processes. Many have had to pivot and come up with new ideas to make money. Many transitioned in-person transactions to online procedures. Employees learned to work from home. If a worker was no longer needed, they could find work elsewhere. Today, remote work has become more normalized, leaving many office buildings empty.
Despite all the empty buildings, bankruptcies in the commercial real estate sector have been low. That could change soon, though, as fed-up lenders stop extending credit and giving breaks to building owners who can't pay up. Many of these companies received breaks for 12-18 months, and lenders are losing their patience.
Many commercial real estate loans are in forbearance, which means that lenders are working with the borrowers. They are being patient by delaying the foreclosure process. Lenders are hoping that these companies will be able to pay up eventually. This wait-and-see attitude is putting commercial real estate in a bad spot. It's important to understand that full recovery is not likely, considering that the COVID pandemic forced many businesses to make long-term changes.
So what happens next? Some of these properties will recover; many won't. Companies will be forced to pay up or file for bankruptcy. The lender will likely have to absorb these losses.
The economy is getting better, but that comes with both good and bad news. While it increases the demand for leases, it increases the building owners' borrowing costs. Commercial real estate prices may see huge declines, particularly if demand does not pick up soon.
While the pandemic has affected the commercial real estate market, real estate agents and builders are trying to reduce the taxes involved when buying or selling a property, and this might get the industry back on track. Also, organizations and government agencies are working to develop new projects that will hopefully be attractive to companies considering commercial real estate.
Learn More About Commercial Real Estate
Now that the COVID-19 pandemic has pretty much run its course and the economy is improving, what will happen to commercial real estate buildings? With many companies allowing remote work, what will be the future of commercial real estate?
There will still be a need for office space to some degree, but the landscape is certainly changing. If you are interested in office space, seek legal help from Orlando commercial real estate transaction lawyer B.F. Godfrey from Godfrey Legal. He can ensure that you are making good decisions and help you resolve any issues. Schedule a consultation today by calling (407) 890-0023 or filling out the online form.
Resource:
bloomberg.com/news/articles/2021-05-25/distressed-commercial-real-estate-is-still-sitting-in-purgatory