What to Know When Considering a Business Lease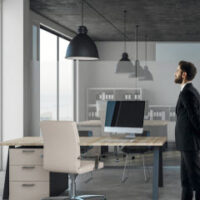 Many companies consider business leases for various reasons. Maybe they are in need of space for a brand-new business. Perhaps they need extra room for equipment and materials. With many companies going the route of telecommuting, many invest in co-working space for employees to cut costs.
Business leases, however, are all different. No matter which one you choose, there is bound to be some risk involved. You may end up paying much more for the space than you intended. Here are some things to consider before signing a lease.
Hidden Fees
What you think you are paying and what you end up paying are often two different things. The lease agreement should clearly outline all the fees you are expected to pay as part of the lease. It is a good idea to contact an attorney to make sure the terms and costs are fair.
Your Goals
Don't be rushed into leasing the first space you see. Take some time to outline your goals and make sure that the space you choose meets these goals. Think about the future. Is there room for expansion? Will you need more space in the next few years? The space you lease should meet your needs.
Possible Repairs
Is the space going to require costly maintenance or repairs down the road? If so, keep this in mind when negotiating a lease. Unexpected expenses can really put a dent in your budget, especially if you are a small company where every dollar counts.
Pass-Throughs
Many property owners pay for the utilities directly, then pass on the charges to the tenant. This is called a pass-through, and it is important that you understand this when deciding on a space to lease. See if this is stated in the lease, and if not, ask about it.
Terms and Conditions
What happens if you pay the rent a little late? What constitutes a breach of lease? Information about breaches, remedies and cures should be included in the lease agreement. You want to know the rules involved so you can keep business operations running smoothly. You should know what options are available to you so you don't get evicted.
Credit History
Your financial history is important when buying or renting many things, and business leases are no exception. The better your credit history, the better the price you'll get on a lease. Lessors are more likely to rent to companies and individuals who have a low degree of risk, and that refers to someone who will make payments on time.
Learn More About Business Leasing
Leasing space for your business can be a complicated procedure. There are many types of spaces you can choose from, including warehouses, offices, retail space, strip malls and big-box stores. These all have different considerations, with specific elements involved.
Leases can be tricky. Make sure you know how to proceed. Seek help from Orlando business leasing lawyer B.F. Godfrey from Godfrey Legal. With more than 30 years of experience handling business transactions, he can guide you in the right direction. For a consultation, fill out the online form or call his office at (407) 890-0023.