Choosing the Best Workspace for Your Business Startup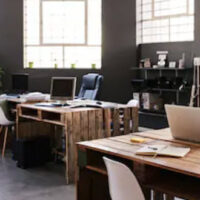 What projects are you currently working on? How will this work translate to profits for your business startup? These are important questions for any entrepreneur, but there is another question that's just as important, but often neglected: where are you working?
Workspaces matter. Some companies focus little on having the right office space, but it can be a huge deal for employees. People spend roughly one-third of their lives in an office. An office space has the ability to turn mediocre employees into creative superstars. The right space needs to allow workers to think, collaborate and produce.
Types of Workspaces
There are several main categories of workspaces:
Residential space. Many companies have started in basements and spare bedrooms. Telecommuting has grown in recent years and now many employees work from home at least part time.
Leased office spaces. These are the most common types of workspaces. Leasing is cost-effective and offers stability for businesses that plan to be around for at least a few years. Responsibility and upfront costs are minimal.
Owned office spaces. These are ideal for established companies. Larger offices can rent out space to other companies and make money.
Coworking spaces. These are used by freelancers and contractors who may not always want to work from home.
Choosing the Right Workspace 
Determine your wants and needs. First, focus on needs. How much space do you need? Is parking sufficient? Is the internet speed fast enough for your company's productivity? Next, think about your wants. Maybe you want a good location, an onsite gym, and open floor plan and covered parking. See if you can incorporate any of them without overpaying.
Determine your budget. Obviously you need to have adequate funds to pay for your workspace. Are you strapped financially? Do you have an extra $1,000 a month to pay for a workspace? If not, then a coworking space or telecommuting option would work best, especially in your company's early stages.
Think ahead—but not too far. While it's good to plan a little in advance, don't think too far ahead. You're not yet established, so think 6-12 months in the future. Don't try to lease a huge space just yet. Focus on coworking spaces for the time being.
Ask your employees. They are the ones who will be using the space, so get their opinions on what will work for them. While you should be the one who will make the final decision, it's always good to have your employees' input.

Learn More About Business Startups 
Starting a business can be exciting, but there is a lot involved. Don't neglect your office space. Where a person works affects their productivity and overall attitude, so be sure to invest in the right type of environment for your business.
Orlando business startup lawyer B.F. Godfrey from Godfrey Legal can help you establish your new business. He can guide you through the process and help you avoid any costly mistakes. To schedule a consultation, call (407) 890-0023 or fill out the online form.
Resource:
smallbiztrends.com/2019/09/startup-workspace.html
https://www.godfreylegal.com/what-to-know-about-healthcare-startups/