Getting Out of a Construction Contract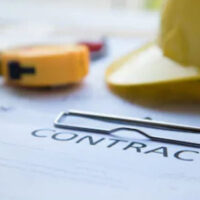 You may have chosen a contractor to help you build a home. You may be all set to buy a condo that is still under construction. In both of these situations, there would be a construction contract in place outlining the scope of work, as well as deposits and payment schedules.
Maybe you have signed a contract and started making payments, but you decide you no longer want the house or condo. Maybe you lost your job or have to move. What happens now?
It depends on what is outlined in the contract. Before signing a construction contract, it is important to know what conditions the contractor will allow from the buyer to terminate the contract. Read on to understand contract termination and the conditions that may apply.
Why Would You Want to Terminate a Contract?
From the time you sign a contract to the time that your house or condo is complete, it could be a year or longer. A lot could happen in that amount of time. You could lose your job and no longer have the funds to purchase the home. You may be forced to move for a job or to be closer to family. Maybe you decided you don't get along well with the contractor. Maybe he is not performing well or fails to communicate with you, making you uncomfortable with the project.
These are all valid reasons to end a contract. However, you need to determine what the consequences will be. You may be unable to break the contract, or if you do, you'll pay the price.
What Can be Done?
It is highly unlikely that you can simply end your contract without any repercussions. That would be harmful to the contractor, who likely invested significant time and money to perform the work outlined in the contract.
See what your contract allows. Some will allow you to sell your agreement to another buyer. This means you can find someone to take the contract off your hands, and you will no longer be liable for future payments. The buyer would also reimburse you for payments you already made.
If that is not an option, try talking to the contractor about your situation. It is possible he will understand and let you off the hook, especially if the market is in his favor and he can sell the home for even more than what your contract states.
If he is not agreeable, do not simply walk away and not make good on your contract. You should still make the purchase as agreed upon, but you can then quickly sell to make as much money as possible. You may still lose money this way, but not as much as losing your entire deposit.
Learn More About Construction Contracts 
Construction contracts can be complex. There are many aspects involved, so it is important that you understand what is expected of you. It can be difficult to get out of such a contract should your situation change.
Get the help you need from Orlando construction & development contract lawyer B.F. Godfrey from Godfrey Legal. He can help create a contract that addresses your concerns. Schedule a consultation today by calling (407) 890-0023 or filling out the online form.
Resource:
sun-sentinel.com/real-estate/fl-bz-gary-singer-getting-out-of-condo-contract-20190620-knvbbtgvu5f5dhqmifm2sw4nmi-story.html
https://www.godfreylegal.com/understanding-force-majeure-in-the-construction-industry/