New Trend: Multi-Unit Franchising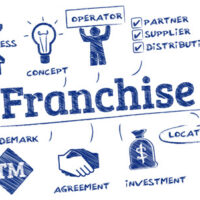 Many people are interested in owning franchises because it can be easier than starting a brand new business. With a franchise, you get an established business with a solid customer base and marketing plans in place. You don't have to worry about whether or not a business will be successful because chances are, it already is. It is also easier to get a loan for a franchise than a business startup. This makes franchises attractive to entrepreneurs.
But many people don't just stop at one business. The new trend is to own multiple franchises. This term, called multi-unit franchising, refers to owning more than one unit in a given territory. This has been the preferred strategy for many business owners in the past few years due to the potential for increased income. More than half of franchises are multi-unit operations. Most of these are fast food restaurants, accounting for 82% of multi-unit franchises. Next on the list is dine-in restaurants, making up 72% of multi-unit franchises.
Besides more money, there are other benefits to consider. Having multiple units allows a person to diversify their investments. There is less risk involved, so if one unit isn't doing so well, the entrepreneur has other units to fall back on for income. You don't have to worry about getting all your revenue from one franchise.
Also, if you own multiple units of the same franchise—such as multiple sites of a McDonald's or Taco Bell, for example—you may enjoy lower operating costs. In many cases, the franchisor will also reduce the franchise fee because there is a guarantee that you will open multiple units in one area, which is advantageous for all involved. You can choose to own multiple franchises all in one general area, or you can operate multiple units across one state or multiple states.
If you purchase more than one franchise at a time, you will be asked to open these units on a set schedule. The usual schedule is one per year.
However, owning multiple franchises is not an easy task. Owning one unit requires a hands-on approach, which means you will essentially serve as a manager. When you have several units, you won't have time to be working at every site all the time. Because of this, you'll have to rely more on well-trained employees, advanced technology and good management.
But with the right attitude and skills, many people are able to open multiple franchises and keep their day jobs. Many people invest part-time in deals where they can be semi-absent and still make a great deal of money.
Learn More About Franchising
While owning a franchise can be an easier way to own a business rather than starting from scratch, it comes with its own set of issues. There are legal elements to consider, so make sure you get the right help to avoid costly problems.
Orlando franchise lawyer B.F. Godfrey from Godfrey Legal can give you the support you need to run a successful business. Schedule a consultation by filling out the online form or calling (407) 890-0023.
Resource:
smallbiztrends.com/2020/09/multi-unit-franchises.html
https://www.godfreylegal.com/is-now-a-good-time-to-purchase-a-franchise/